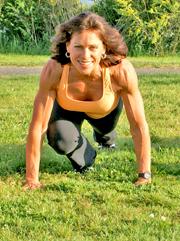 We started this center to change the way people think about fitness in Marin and we cater to the entire family
Corte Madera, CA (Vocus/PRWEB) May 10, 2011
By providing a quality fitness facility for people of all ages, Body By X has experienced tremendous growth. To keep up with their growing clientele, they have leased the space next door to their current location for expansion and added four exceptional personal trainers.
"We started this center to change the way people think about fitness in Marin and we cater to the entire family," said Xavier McClinton, owner and founder of Body By X-better known as X. "Our idea is to broaden the gym experience by giving our members and the community access to professionals from different fields, all committed to health and wellness."
Body By X Skill Development and Training Center offers memberships, personal training, kids camps, and spin, rowing, yoga and conditioning classes. Their unique Railyard Conditioning Course is designed to build strength, coordination and balance. It is the only class of its kind in Northern California.
With the expansion of the workout facilities, Body By X is adding four personal trainers who each bring something special to the team. Their names are Nancy Morano, Brian Edwards, Patrick Caron and Kari Chalstrom.
Nancy Morano, BFA integrates a variety of training techniques to focus clients in the moment and to keep it fun and interesting. Nancy draws from many resources with nearly 30 years experience in the fitness industry and a decade of competitive bodybuilding and holds certifications in TRX suspension training, American College of Sports Medicine (youth and adult), American Council of Exercise (youth and adult), and The American Institute of Fitness Educators (senior certification).
Brian Edwards is one of the Bay Area's most sought after personal fitness trainers. Brian is an ASCM Health Certified Fitness Instructor and Personal Trainer. He is skilled in sports conditioning for athletes, utilizing cutting edge training techniques that improve speed, power and core stabilization. Brian is also a certified massage therapist, who specializes in integrating myofascial release as an important component of fitness training.
Patrick Caron began training clients in 1992. Currently, his clients range from unconditioned individuals and those that need to lose weight to Olympians. He has a BS in Physical Activity Sciences, CSCS and Health Fitness Specialist from American College of Sport Medicine. Recently, Patrick created Touché Fitness with the objective of offering a wider range of services in collaboration with selected local businesses.
Kari Chalstrom has been teaching group fitness classes and personal training since 1998. Her specialty is core awareness, and she teaches clients how to connect to their core, through both fitness and nutrition, whether they are a seasoned athlete, fitness enthusiast, or just someone wanting to feel good both inside and out.
Body By X's differentiating factor is its inclusion of a team of experts such as nutrition, health and wellness specialists, tennis and baseball coaches, and chiropractors. Body By X offers education and seminars to enhance the fitness experience. Upon joining the gym, members have access to all these professionals, who represent over 100 years of combined experience.
To learn more about the expansion of Body By X and their new personal trainers, call (415) 945- 9778, visit them on the web at http://www.bodybyxonline.com, or visit their fitness center in Marin located at 5768 Paradise Drive, Suite J in Corte Madera, California.
About Body By X
Body By X Skill Development & Training Center is a state-of-the-art family oriented gym that specializes in fitness and personal training in Marin. Personal trainers provide personalized workouts on industry leading gym equipment at the http://www.personaltrainingmarinca.com / [Marin fitness __title__ Body By X Marin Physical Fitness Center] center. Body By X serves the San Francisco Bay Area communities of Tiburon, Belvedere, Corte Madera, Larkspur, Kentfield, San Rafael, Novato, San Anselmo, Fairfax, Greenbrae, Sausalito and San Francisco.
###