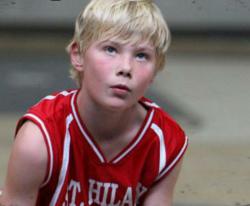 X Camp was a great experience. We had laughs and hard work. To tell you the truth, it was about the hardest I've worked in my life!
Corte Madera, CA (Vocus/PRWEB) February 25, 2011
Body By X, an all-inclusive Marin fitness facility, has reinvented the kids' sports camp model. Their mini-camps are four-day, three-night intensive tennis and basketball retreats for children that stress a spectrum of aspects of athletic ability, not just repetitive drills. The mini-camps allow children to work on skill building, conditioning, nutrition, sports psychology, injury prevention, and sportsmanship. The camps are in June, July and August, and registration is now open.
Both mini-camps are taught by the founder of Marin fitness center Body By X, Xavier McClinton, voted Best Personal Trainer in San Francisco Bay Guardian's Best of the Bay 2010 Reader's Poll, with USPTA Pro Level One coach Tom Sadzeck. Sadzeck has been a USPTA Pro Level One coach for over twenty years.
The four-day, three-night sleep-away experience includes hotel accommodations at Marin Suites in Corte Madera, all meals, and guidance on how to eat healthily. Sessions are held at the Body By X Skill Development & Training Center and local tennis and basketball courts.
From Thursday through Sunday, campers are immersed in either tennis or basketball activities designed to perfect their skills. Kids participate in sport-specific conditioning, learn the importance of nutrition from the resident nutritionist, and discuss injury prevention, sports psychology, and the keys to sportsmanship.
"X Camp was a great experience," said Mini-Camper Alexis Travers. "We had laughs and hard work. To tell you the truth, it was about the hardest I've worked in my life. But at the end of the day we had lots of fun. Xavier worked us hard, but gave us rewards like we got to swim at our hotel and watch movies. I can't even tell you how much we laughed and told jokes."
A typical day at Basketball By X begins with breakfast at 6:00 am, a track workout at 7:00 am, weight training at 8:30 am, a snack time, a basketball clinic at 10:15 am, a body alignment class at 12:15 pm, a lunch and swim until 3:30 pm, a track workout until dinner, a one-hour massage, and then lights out at 9:30 pm.
Basketball mini-campers gain exposure to a variety of training methods, focus on foot work, body positioning, moves, and "shooting" in the low post, age-appropriate weight training, core and stability training, balance work, dance, and plyometrics.
Tennis By X has a similar schedule, but focuses on volley technique, doubles strategy, and tennis-specific conditioning, including balance, plyometrics, and strength training. Campers also learn about stretching and body alignment, and receive massage therapy and lectures on nutrition and injury prevention.
Basketball By X is open to children entering 6th to 12th grade with camps scheduled for June 23-26, July 14-17, July 21-24, and August 11-14. Tennis By X is open to children entering 6th to 8th grade with camps scheduled for June 16-19 and August 4-7 for girls and July 28-31 and August 18-21 for boys.
For more information about the Body By X mini-camps or any of Body By X's services, call them at (415) 945-9778, view them on the web at http://www.bodybyxonline.com, or visit their gym located at 5768 Paradise Drive, Suite J, Corte Madera, CA 94925.
About Tom Sadzeck
Tom Sadzeck is the author of 3 books including the highly successful "Tennis Skills: The Player's Guide," which has sold over 44,000 copies. He has been Director of Summer Camps at various facilities for over 15 years. As a coaching partner at Tennis in Marin, he is the Director of all Junior Tennis programming.
About Body By X
Body By X Skill Development & Training Center is a state-of-the-art family-oriented gym that specializes in physical fitness and personal training in Marin. Body By X serves the San Francisco Bay Area communities of Tiburon, Belvedere, Corte Madera, Larkspur, San Rafael, Novato, San Anselmo, Fairfax, Greenbrae, Sausalito and San Francisco.
Body By X has weight and cardio gym equipment for both kids and adults and a basketball court where Coach X holds his Basketball Skills & Conditioning Clinics for Kids and one-on-one or group basketball training. The Center also offers personal training for children and adults and brings together a team of professionals, including a nutritionist, tennis and golf pros and renowned instructors of yoga, spin and rowing.
###