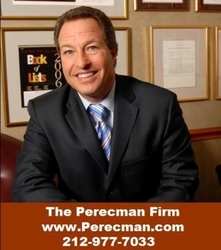 The problem with banning suits is where to draw the line
New York, New York (PRWEB) July 8, 2009
Each year, New York City's chronically cash-strapped metropolitan Transit Authority (MTA) spends millions to pay for damages caused to riders.
Unfortunately things aren't looking up for the MTA. The numbers of people claiming they were injured on transit property continues to skyrocket. New York personal injury lawyers are paying close attention. The MTA receives around 3000 claims a year, according to a recent Audit committee report.
The agency, instead of trying to bring down the number of accidents and the people who suffer in these accidents, by making conditions safer is actively looking to bring the number of lawsuits down and they are appealing to the state legislature for help. One of the Authority's proposals singles out people who put themselves in harms way.
In the past, juries have tended to look favorably upon the MTA and 96 out of 150 jury decisions last year were decided in favor of the agency.
"The problem with banning suits is where to draw the line," says David Perecman, a New York personal injury lawyer. "The MTA should not have any special right to be exempted from personal injury lawsuits. If they are partly to blame they should pay their part . If the claimant is partly to blame they don't get compensated for their part. That's the law in this State. If a jury decides that a person is 505 at fault they only ger 50% of their damages. Banning the claim outright would allow the MTA to walk away from their share of responsibility. From the point of view of the law, the burden of responsibility is with the transit operator and the claimant to act reasonably and prudently."
Each case is different so generalization can be dangerous. Anyone who finds himself or herself in a personal injury accident on the MTA or other public transit should call a New York personal injury lawyer to discuss his or her options, urges Perecman.
About David Perecman and The Perecman Firm, PLLC:
For the past 25 years, the New York personal injury lawyers, construction accident, auto accident and medical malpractice lawyers at The Perecman Firm, PLLC have championed all types of cases for personal injury. David Perecman, founder of the Firm, is the current Secretary of the New York State Trial Lawyers Association (NYSTLA) and a chair of its Labor Law Committee. Mr. Perecman's achievements have brought him recognition as an Honoree in the National Law Journal's Hall of Fame, in New York Magazine's "The Best Lawyers in America" and The New York Times Magazine "New York Super Lawyers, Metro Edition".
The Firm has recovered millions of dollars for its clients. Among the more recent victories, Mr. Perecman won a $15 million verdict* for a construction accident, a $5.35 million dollar verdict** for an automobile accident, and a $40 million dollar structured settlement for medical malpractice.
*later settled while on appeal for $7.940 million
** later settled for $3.5 million
"Lawyer Advertising"
"Prior results do not guarantee a similar outcome."
# # #