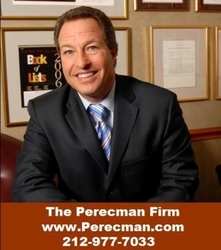 I can't go back and make what happened to my client go away but what I can do is try and give them a life that is comfortable and the only way [New York personal injury attorneys] can do that is by monetary compensation
New York, NY (PRWEB) August 27, 2009
Medical malpractice is being seen as an important piece in the debate about healthcare reform in the United States. However, the real problem may be too much medical malpractice, not too much litigation. New York personal injury attorney David Perecman explains why he and his firm work so hard to secure maximum compensation for their clients.
The person a financial cap would hurt the most are the victims with the most severe injuries - those who can no longer work and need intensive medical care. Special additions for their homes like wheelchair ramps, a special vehicle to get them where they want to do, home care, everything they need to maintain a life that is comfortable, this all costs money. Even more distressing is the fact that caps on pain and suffering would unfairly discriminate against the poor, elderly and women who may have less or no income losses but suffer just the same.
"The solution is not to take away victim's rights," says Perecman, a New York personal injury attorney who has fought tenaciously on lawsuits of numerous victims of medical malpractice.
Improving medical care has gained national attention since the 1999 Institute of Medicine report that stated as many as 98,000 people die each year due to medical errors made in hospitals. The number is greater than those who die in a given year from motor vehicle accidents, breast cancer or AIDS. A large part of the study was conducted with data from hospitals in New York. Personal injury attorneys are looking out for their clients.
"The first thing you want to do as a personal injury attorney is make your clients whole, that's your job," adds Perecman.
Ironically, studies show that, by a large margin, the majority of medical error victims do not even file medical malpractice lawsuits. However, its only fair that when patients become victims of unavoidable or avoidable medical error, they need to be compensated for medical expenses, wage loss, pain and suffering and other financial loss.
In a video shot in his office in New York, personal injury attorney, Perecman presents the side of the victim who has just lost a limb, or now suffers a permanent or serious injury at the hand of a trusted doctor, even death.
"I can't go back and make what happened to my client go away but what I can do is try and give them a life that is comfortable and the only way [New York personal injury attorneys] can do that is by monetary compensation," explains Perecman.
According to a June 16, 2009 report from Bloomberg, the idea that protecting doctors from lawsuits will rein in medical costs is not a significant factor in what drives up the costs of health-care. Inefficiency is cited as a much greater problem. A 2004 report by the Congressional Budget Office also says that even significant reductions would do little to reduce high health-care expenses.
About David Perecman and The Perecman Firm, PLLC:
For the past 25 years, the New York personal injury attorneys, construction accident, auto accident and medical malpractice attorneys at The Perecman Firm, PLLC have championed all types of cases for personal injury accidents. David Perecman, founder of the Firm, is the past Secretary of the New York State Trial Lawyers Association (NYSTLA) and a chair of its Labor Law Committee. Mr. Perecman's achievements have brought him recognition as an Honoree in the National Law Journal's Hall of Fame, in New York Magazine's "The Best Lawyers in America" and The New York Times Magazine "New York Super Lawyers, Metro Edition".
The Firm has recovered millions of dollars for its clients. Among the more recent victories, Mr. Perecman won a $15 million verdict* for a construction accident, a $5.35 million dollar verdict** for an automobile accident, and a $40 million dollar structured settlement for medical malpractice.
*later settled while on appeal for $7.940 million
** later settled for $3.5 million
"Lawyer Advertising"
"Prior results do not guarantee a similar outcome."
###