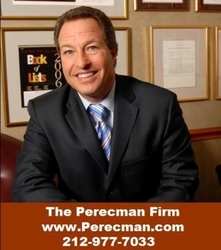 Prior results do not guarantee a similar outcome.
New York, New York (PRWEB) September 10, 2009
A moped driving Chinese-food deliveryman remains in critical condition after he was hit by an Emergency Medical Service chief who was racing to the scene of a reported stabbing, keeping personal injury lawyers buzzing (see the EMS Daily News Report at http://www.emsdailynews.com/?p=5284).
According to FDNY sources, the chief had his lights and sirens on when he hit the moped driver. After the crash, the chief stayed at the scene.
"Any way you look at this, it is an unfortunate incident," said David Perecman, a New York personal injury lawyer.
The stabbing - which later proved to be unfounded - was reported in Borough Park, New York. Personal injury lawyers around Brooklyn have learned from reports that the chief was cleared of wrongdoing and. He had told police that he did not see the deliveryman before the crash.
"When accidents like this happen in New York, personal injury lawyers need to know many more details before they can make any judgment calls," said Perecman.
The New York Vehicle and Traffic law , section 1104 permits more leeway to an emergency vehicle and has to be shown to be driving recklessly, as opposed to simply negligently, in order to be found responsible.
About David Perecman and The Perecman Firm, PLLC:
For the past 25 years, the New York personal injury lawyers, construction accident, auto accident and medical malpractice lawyers at The Perecman Firm, PLLC have championed all types of cases for personal injury accidents. David Perecman, founder of the Firm, is the past Secretary of the New York State Trial Lawyers Association (NYSTLA) and a chair of its Labor Law Committee. Mr. Perecman's achievements have brought him recognition as an Honoree in the National Law Journal's Hall of Fame, in New York Magazine's "The Best Lawyers in America" and The New York Times Magazine "New York Super Lawyers, Metro Edition".
The Firm has recovered millions of dollars for its clients. Among the more recent victories, Mr. Perecman won a $15 million verdict* for a construction accident, a $5.35 million dollar verdict** for an automobile accident, and a $40 million dollar structured settlement for medical malpractice.
*later settled while on appeal for $7.940 million
** later settled for $3.5 million
"Lawyer Advertising"
"Prior results do not guarantee a similar outcome."
###