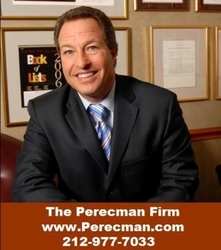 New York Super Lawyers, Metro Edition
New York, NY (PRWEB) October 14, 2009 -
Seven people were injured in a Queens auto versus pedestrian accident on October 7, 2009. There were no fatalities in this crash that occurred when an out-of-control Nissan skidded on the wet road, jumped the curb and slammed into a bus shelter on the corner of Douglaston Parkway and 65th Avenue.
According to the New York Daily News, the Nissan crashed squarely into the group of commuters waiting for the bus. Several of the crowd were knocked through the glass wall of the shelter.
"There are many questions still unanswered," said New York personal injury attorney Perecman. "The driver could have lost control because he was inexperienced, or because he was speeding, or driving under the influence of alcohol. A product defect in the Nissan, or even a dangerous condition on the roadway may also have contributed to the crash."
New York personal injury attorneys will help identify the negligent parties and hold them responsible for this Queens accident.
"Before we make any judgments, the first thing New York personal injury attorneys wait to see in an auto accident such as this one, is if the driver faces criminal charges," said Perecman.
All seven of the injured were ambulanced to North Shore University Hospital. The driver of the Nissan was also injured, according to FDNY officials.
"The physically injured weren't the only ones who were hurt in this incident in New York," personal injury attorney Perecman added. "It will be a while before those who witnessed this accident recover emotionally from what they saw."
About David Perecman and The Perecman Firm, PLLC:
For the past 30 years, the New York personal injury attorney, auto accident, construction accident, and medical malpractice attorney at The Perecman Firm, PLLC have championed all types of cases for personal injury accidents. David Perecman, founder of the Firm, is a Board Director and the past Secretary and Treasurer of the New York State Trial Lawyers Association (NYSTLA) and a chair of its Labor Law Committee. Mr. Perecman's achievements have brought him recognition as an Honoree in the National Law Journal's Hall of Fame, in New York Magazine's "The Best Lawyers in America" and The New York Times Magazine "New York Super Lawyers, Metro Edition" for the years 2007-2010.
The Firm has recovered millions of dollars for its clients. Among the more recent victories, Mr. Perecman won a $15 million verdict* for a construction accident, a $5.35 million dollar verdict** for an automobile accident, and a $40 million dollar structured settlement for medical malpractice.
*later settled while on appeal for $7.940 million
** later settled for $3.5 million
"Lawyer Advertising"
"Prior results do not guarantee a similar outcome."
###