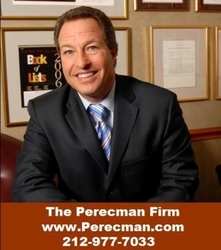 New York Super Lawyers, Metro Edition
Wantagh, NY (PRWEB) October 15, 2009
On Sunday night a 40-foor powerboat hit marshland off Long Island's southern shore, killing three people and injuring four others, according to a report by Fox News. Unfortunately, these types of boat accidents are not new to New York personal injury lawyers.
The speedboat was navigating a channel in an area well-known for its boggy salt marshes when it ran up on land. Based on its location when discovered, the boat was estimated to be traveling at a high rate of speed. The overturned craft, which was designed for racing, was located on top of a marsh, approximately 150 feet from the water.
At least two people were airlifted to nearby hospitals. The accident is under investigation.
Although the most reported type of boat accident in New York is collision between vessels, New York personal injury lawyers note that capsizing and falling overboard is a cause of over half the fatalities. Other common causes of serious accidents, according to the United States Coast Guard, are due to recklessness, driver inexperience, driver inattention, intoxication, and excessive speed.
"Boating-related fatalities now rank second only to car crashes as the cause of transportation-related deaths in the United States and we've represented many in New York," personal injury lawyer Perecman added.
About David Perecman and The Perecman Firm, PLLC:
For the past 30 years, the New York personal injury lawyer, auto accident, construction accident, and medical malpractice lawyers at The Perecman Firm, PLLC have championed all types of cases for personal injury accidents. David Perecman, founder of the Firm, is a Board Director and the past Secretary and Treasurer of the New York State Trial Lawyers Association (NYSTLA) and a chair of its Labor Law Committee. Mr. Perecman's achievements have brought him recognition as an Honoree in the National Law Journal's Hall of Fame, in New York Magazine's "The Best Lawyers in America" and The New York Times Magazine "New York Super Lawyers, Metro Edition" for the years 2007-2010.
The Firm has recovered millions of dollars for its clients. Among the more recent victories, Mr. Perecman won a $15 million verdict* for a construction accident, a $5.35 million dollar verdict** for an automobile accident, and a $40 million dollar structured settlement for medical malpractice.
*later settled while on appeal for $7.940 million
** later settled for $3.5 million
"Lawyer Advertising"
"Prior results do not guarantee a similar outcome."
###