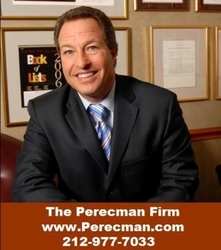 New York, NY (PRWEB) December 1, 2009
On November 17 a cab was hit by an unmarked New York police squad car clearing a path for the rest of the Vice President's motorcade. As reported in the New York Post, the livery driver accelerated past a NYPD stop point and into the intersection as Biden's advance cars - not considered part of his official motorcade - approached. New York personal injury attorneys noted that the advance cars had their lights and sirens on.
"Motorcade routes are selected by Secret Service agents several days before a domestic trip, but its events like these that show just how unpredictable life can be even when you make the most detailed plans," said New York personal injury attorney David Perecman.
This road accident involving the vice president's motorcade is the third in the past week. In another auto accident, attorneys noted that a sheriff's deputy was injured in New Mexico, when a woman drove around police vehicles blocking an intersection and collided with his car. Last Thursday, two armored Secret Service vehicles struck and killed a man as he was crossing a parkway in Maryland.
About David Perecman and The Perecman Firm, PLLC:
For the past 30 years, the New York personal injury attorneys, auto accident, construction accident, and medical malpractice attorneys at The Perecman Firm, PLLC have championed all types of cases for personal injury accidents. David Perecman, founder of the Firm, is a Board Director and the past Secretary and Treasurer of the New York State Trial Lawyers Association (NYSTLA) and a chair of its Labor Law Committee. Mr. Perecman's achievements have brought him recognition as an Honoree in the National Law Journal's Hall of Fame, in New York Magazine's "The Best Lawyers in America" and The New York Times Magazine "New York Super Lawyers, Metro Edition" for the years 2007-2010.
The Firm has recovered millions of dollars for its clients. Among the more recent victories, Mr. Perecman won a $15 million verdict* for a construction accident, a $5.35 million dollar verdict** for an automobile accident, and a $40 million dollar structured settlement for medical malpractice.
*later settled while on appeal for $7.940 million
** later settled for $3.5 million
"Lawyer Advertising"
"Prior results do not guarantee a similar outcome."
###