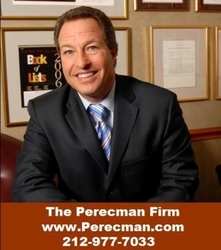 New York (PRWEB) December 8, 2009
The streets of Manhattan are now safer according to New York City personal injury lawyer David Perecman, making reference to the city's crackdown on unlicensed pedicabs.
"The fact that there were so many operators driving with no accountability on safety issues and without insurance made the city more unsafe. Few would know that better than a New York personal injury lawyer," said Perecman, who has had a law firm in Manhattan for over 30 years.
Before the crackdown, up to 1,000 pedicabs were on the streets at one time. To regulate the industry, the city added rules that require pedicab drivers to have headlights, seat belts and working brakes. Prices must also be displayed.
There have been no known fatal pedicab accidents in Manhattan, but passengers and drivers have been injured in collisions with cars, taxis, and buses.
"Thankfully the city is not waiting for a fatal accident to occur before they really enforce the rules. I believe I speak for many New York personal injury lawyers when I say that," said Perecman.
About David Perecman and The Perecman Firm, PLLC:
For the past 30 years, the New York personal injury lawyers, auto accident, construction accident, and medical malpractice lawyers at The Perecman Firm, PLLC have championed all types of cases for personal injury accidents. David Perecman, founder of the Firm, is a Board Director and the past Secretary and Treasurer of the New York State Trial Lawyers Association (NYSTLA) and a chair of its Labor Law Committee. Mr. Perecman's achievements have brought him recognition as an Honoree in the National Law Journal's Hall of Fame, in New York Magazine's "The Best Lawyers in America" and The New York Times Magazine "New York Super Lawyers, Metro Edition" for the years 2007-2010.
The Firm has recovered millions of dollars for its clients. Among the more recent victories, Mr. Perecman won a $15 million verdict* for a construction accident, a $5.35 million dollar verdict** for an automobile accident, and a $40 million dollar structured settlement for medical malpractice.
*later settled while on appeal for $7.940 million
** later settled for $3.5 million
"Lawyer Advertising"
"Prior results do not guarantee a similar outcome."
###