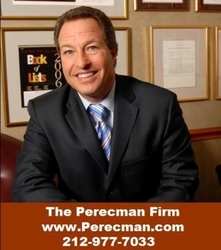 New York, NY (PRWEB) February 8, 2010
As a proactive measure, New York City and the Environmental Protection Agency (EPA) have promised to look into possible PCB contamination at five public city schools, with the support of personal injury attorneys. As reported by The New York Times, the million dollar pilot study is designed to test old caulk. The end goal of the study is a plan that addresses the PCB contamination, if it is found in significant amounts. According to personal injury attorneys, New York City schools are taking the right approach.
The best lawyers in America agree that although PCBs were banned in the 1970s, many schools built or renovated from 1950 to 1978 have window and door caulk highly likely to have PCBs.
Polychlorinated Biphenyls (PCB) are known to cause cancer in animals and have been linked to disorders of the nervous, reproductive, immune, and endocrine systems in people.
"This demonstration of New York City's commitment to a safe environment for people should be lauded by parents, teachers, and students. Taxpayers should applaud as well. Billions have been spent by companies to settle PCB contamination related lawsuits and it's better to do what the DOE is doing, and that's to head off the problem before it happens," said David Perecman, a New York personal injury attorney.
David Perecman and The Perecman Firm, PLLC:
For the past 30 years, the New York personal injury attorneys, auto accident, construction accident, and medical malpractice attorneys at The Perecman Firm, PLLC have championed all types of cases for personal injury accidents. David Perecman, founder of the Firm, is a Board Director and the past Secretary and Treasurer of the New York State Trial Lawyers Association (NYSTLA) and a chair of its Labor Law Committee. Mr. Perecman's achievements have brought him recognition as an Honoree in the National Law Journal's Hall of Fame, in New York Magazine's "The Best Lawyers in America" and The New York Times Magazine "New York Super Lawyers, Metro Edition" for the years 2007-2010.
The Firm has recovered millions of dollars for its clients. Among the more recent victories, Mr. Perecman won a $15 million verdict* for a construction accident, a $5.35 million dollar verdict** for an automobile accident, and a
$40 million dollar structured settlement for medical malpractice.
*later settled while on appeal for $7.940 million
** later settled for $3.5 million
"Lawyer Advertising"
"Prior results do not guarantee a similar outcome."
###