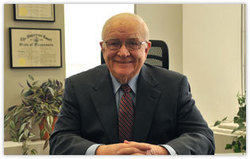 It is our goal to serve the injured with compassion and strength
Minneapolis, MN (PRWEB) September 20, 2010
The Minnesota Association for Justice has awarded their Lifetime Achievement Award to Paige Donnelly, a personal injury attorney in St. Paul, MN, at their recent convention. Donnelly accepted his honor in the presence of approximately 300 guests during the annual 3-day convention.
The award is given infrequently and only to recipients whose body of legal work epitomizes the pursuit of justice in the state.
Donnelly was cited for his passion for helping people and taking on the behemoth insurance industry, for his willingness to go to trial in a climate where settlement is the norm, and for his exceptional success at trial.
"Trials are work and stress," Donnelly's law partner and daughter, Sheila Donnelly-Coyne, also a Minnesota personal injury attorney, said. "Judges have said he goes to trial more than any attorney who appears in their court."
Donnelly decided early on that he wanted to dedicate his practice to serving people whose lives have been shattered by an injury. For over 50 years in practice, he has assisted clients in regaining control of their lives after an injury. "It is our goal to serve the injured with compassion and strength," offers Paige when explaining his firm's mission.
"With all his years of practice, (Donnelly) tirelessly works for the little person, has a willingness to continue his practice, and actually looks forward to trials," Donnelly-Coyne said. "He is one of the stalwarts of the community."
# # #