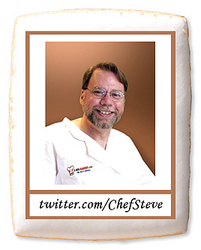 When you brand yourself properly, the competition becomes irrelevant.
Winchester, MA (Vocus) February 10, 2010
What makes someone more recognizable from all the others who are fighting for the same job? One way to rise above the tide is to follow up an interview with not just a "thank you" card but instead an edible photo cookie card. 1-800-Bakery.com has discovered that edible photo items such as photo cookies, photo cakes, and photo chocolates can be a valuable "Personal Branding" tool. A day or two after an interview send a few photo cookies with your picture on them and a brief message of any choice. After interviewing potentially hundreds of job-seekers the decision maker will recognize the applicant as a person rather than a few sheets of facts and numbers. Now there is a face on your resume.
With the unemployment rate standing at 10% nationally, a legion of job seekers are becoming discouraged. Scores have already given up on their job search and the prospects look dim in the near term for many more. Now is the time to take an innovative approach to getting hired. Beyond crafting a compelling resume and cover letter, be clever. The tools people need to distinguish themselves from the competition are out there, they just have to commit to being creative and break new ground in their search methods. One such tool is the use of "Personal Branding." Photo cookies can be a great personal branding tool that will differentiate individuals from the rest of the crowd. "When you brand yourself properly, the competition becomes irrelevant." says Dan Schawbel, the foremost personal branding expert for Gen-Y. He is the author of the bestselling career book "Me 2.0: Build a Powerful Brand to Achieve Career Success (Kaplan, April 2009).
Stephen Pazyra, owner of 1-800-Bakery.com a leader of on-line gourmet bakery goods says," I am always looking for new, cutting edge ideas on how best to serve my clientele. If my photo cookies can help one person get hired in today's difficult job market I'll consider our idea a success." Chef Steve adds, "If you know someone who is job searching help them out with a gift of photo cookies, we all need to pitch in during these difficult times." Edible photo cookies, cakes, and chocolates are powerful eye-catching personal branding tools that can be helpful in getting that job so many covet.
About 1-800-Bakery.com
Stephen Pazyra started 1-800-Bakery.com in 2004, to offer baked goods with a commitment to quality, creativity, and freshness for those who were miles away from home. Their Freshness is 100% Guaranteed. When you place an order at 1-800-Bakery.com it goes straight from the local baker to your doorstep.Treat yourself or find a unique gift for someone you love. No matter what you select, 1-800-Bakery.com promises you will be satisfied beyond your wildest dreams. 1-800-Bakery.com is well on the road to becoming America's neighborhood bakery on the internet.
###