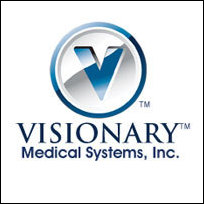 Our Electronic Health Record will help healthy heroes deliver more coordinated care, with enhanced decision support, improved quality and greater safety.
Tampa, FL (PRWEB) March 29, 2007
Visionary Medical Systems, a leading provider of practice management and clinical software, connecting the patient, provider and payer with health care information solutions that physicians use to improve healthcare and services, is proud to support and participate in the 2007 Global Citizen & Healthy Heroes program.
The Patel Foundation for Global Understanding is a non-profit organization dedicated to building healthy communities by empowering people to be their best. Through the launching of their "Healthy Together" initiative they hope to ignite inspiration and encouragement that will spread throughout our neighborhoods, state and worldwide.
Visionary Medical Systems follows a similar thread in the health care solutions arena promoting the adoption of electronic health records for improved quality of care. "Our goals and initiatives are similar and overlap with our national efforts to empower healthcare providers with technology to help them delivery the safest, highest quality care anywhere," said Jason Patchen, Chief Executive Officer of Visionary. "These tools can put life-saving information at the fingertips of providers for instant access of patient information when and where they need it most."
To further address global access to patient information, Visionary has been developing a Personal Health Record (PHR) to expand patient-provider communications. Visionary plans to eventually offer their ePHR to physicians nationwide for enhanced connectivity and quality of care.
"Visionary's commitment to provide technology that will enable clinicians to deliver high-quality care at an affordable price is demonstrated in our decision to support and participate in health initiatives such as Healthy Together," said Jason Patchen. "Our Electronic Health Record will help healthy heroes deliver more coordinated care, with enhanced decision support, improved quality and greater safety."
This Friday, March 30, 2007 at the Tampa Convention Center Visionary Medical Systems will be participating at the Citizens & Heroes Awards Celebration to help make a difference in the public health and safety of the Tampa Bay area.
More than 400 people and dozens of organizations will be attending the Citizens & Heroes dinner honoring local and international health heroes. If you would like to attend or need more information please contact Mary Kelley Hoppe, 813.220.9293 or 969.0529; or Sigrid Tidmore, Patel Foundation 813.471.4380 ext 621 or 957.1720.
About the Patel Foundation for Global Understanding
The Foundation for Global Understanding is a not-for-profit organization focused on improving the human condition by providing programs and funding for health, education and the arts.
We are committed to:

Being actively involved in the creation and participation of the solutions we fund;
Partnerships which leverage donations, local resources and community efforts;
Projects which can be replicated to make the highest positive impact on the lives of the largest number of people at the lowest cost; and
Providing our donors the confidence, flexibility and transparency they require in order to invest their resources in good works.
American physicians Drs. Kiran and Pallavi Patel have been actively involved in global philanthropy for years. In early 2003, they decided they wanted to consolidate their efforts into an organization that helped them and other fellow donors create extraordinary results for worthy charities. The Patels wanted to contribute to an organization which can leverage the contributions of many individuals and companies, resulting in greater humanitarian impact and reach. They would like to direct their passion and compassion towards good works by partnering with many others to achieve dreams such as these: Patel Scholars, Disaster Relief Programs, Dr. Pallavi Patel Performing Arts Conservatory and Rural Clinics and Health Camps.
About Visionary Medical Systems, Inc.
Visionary is the leading provider of information-technology based solutions which generates measurable ROI for both healthcare providers and payers. Since 1996, its integrated line of clinical, financial, document management and chronic care management solutions have helped maximize productivity, improve patient care, while reducing the overall costs of healthcare delivery. Visionary's products and services have been chosen by some of the nation's leading medical clinics, IPAs, community health centers and health plans.
DREAM EHR is a CCHIT Certified solution with an intuitive interface that makes it easy to learn and extremely flexible. Clinicians are able to adopt the technology in phases, while maintaining the current practice workflow. Our trained and certified professionals provide complete onsite and online consultation, training and implementation services nationwide. More information on Visionary Medical Systems can be found online at http://www.visionarymed.com or by calling (888) 895-2466.
###