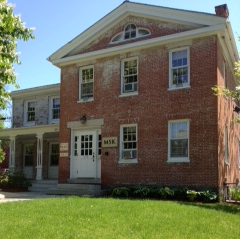 "Any time we have the opportunity to expand our practice, it means we can help more people,"
- David Pollock
Burlington, VT (PRWEB) July 23, 2012
The law firm of Martin, Harding & Mazzotti has opened the doors of its new office in downtown Burlington, Vermont. The firm's office is located at 275 College Street in the historic Peck House. This house is the birthplace of Vermont Civil War Hero, Theodore Peck. The Burlington office is managed by attorney David J. Pollock.
Martin, Harding & Mazzotti works to ensure that those who are injured due to negligence are properly represented and receive the settlement that they deserve. The firm has offices in New York, Massachusetts and Vermont in the cities of: Albany, Springfield, Manchester, Saratoga Springs, Utica, and Plattsburgh. The Burlington Vermont office is the most recent addition to the firm's locations.
Managing attorney of the Burlington office, David Pollock, is admitted to the New York State Bar, the Vermont State Bar, the United States District Court for the Northern District of New York, the United States District Court for the District of Vermont, and the United States Court of Appeals for the Second Circuit.
Over the last 20 years, David Pollock has litigated cases involving automobile accidents, premises liability, products liability, medical malpractice, construction accidents, motorcycle accidents, negligent prescription of drugs, wrongful death, and traumatic brain injuries.
"Any time we have the opportunity to expand our practice, it means we can help more people," says David Pollock. "No matter where we open offices, our mission is always the same, assist those in need. Each community we enter is like a new home for us. We're proud to now call Burlington home."
About Martin, Harding and Mazzotti, LLP
Martin, Harding & Mazzotti, LLP ® is a personal injury law firm whose practice is limited to protecting the rights of those wrongfully injured as a result of negligence. If you or someone you know has been injured, you can call them toll free at 1800LAW1010 (1.800.529.1010). Martin, Harding & Mazzotti has expanded their personal injury operations into Massachusetts and Vermont. Based in Albany, NY, the law firm has a storied history of actively engaging their community including The Legal Project, an organization in which Paul Harding has taken an active role. The Legal Project is a private, non-profit organization, which provides a variety of free and low cost legal services to the working poor, victims of domestic violence and other underserved individuals in New York's Capital Region.