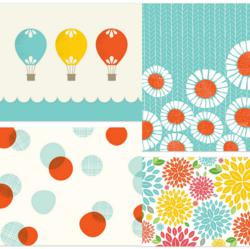 Our only difficulty was struggling to pick just four designs! The Minted design community is beyond talented and we're thankful to have a role in sharing that talent with the world.
San Francisco, CA (PRWEB) July 08, 2011
Minted (http://www.minted.com), the online store powered by a global design community, and independent book publisher Chronicle Books have announced the winners of 'The Chronicle Books-Minted Design Challenge'. Designers from around the world were invited to submit custom stationery designs to Minted in a unique color scheme that Chronicle Books chose. This marks the first time that Minted has acted as an agent for sourcing content for another retailer.
Chronicle Books Executive Editor Christina Amini and her colleagues chose four designs from the 657 submissions, which will be printed as ready-made stationery and distributed in notecard portfolios by Chronicle Books, and as personalized stationery on Minted. The four designs will be offered in one "Best of Minted" notecards portfolio, complete with envelopes and the name of the designer featured on the back of each individual card, and will be sold on Chronicle's website at http://www.chroniclebooks.com, in Chronicle Book stores, and in boutiques and bookstores around the world.
In addition to Chronicle's picks, the Minted community voted to determine the top twenty submitted designs to be sold as custom stationery on Minted. In total, over 100 new designs were selected for sale on Minted. In addition to ongoing commissions on the sales of their work from both Minted and Chronicle Books, $10,000 in cash prizes was awarded.
"The Pantone colors selected by Chronicle Books inspired our design community to produce the most beautiful and innovative personal stationery designs ever," says Minted CEO & Founder Mariam Naficy. "We're thrilled with this first-ever partnership where we have produced design content for another retailer."
"This is the first time Chronicle has sourced stationery design through a design competition and we could not have been more pleased with the result," says Christina Amini, Executive Editor, Chronicle Books. "Our only difficulty was struggling to pick just four designs! The Minted design community is beyond talented and we're thankful to have a role in sharing that talent with the world."
Chronicle's Selections:
•Spring in Bloom, by Kelly Maron Horvath
•Pretty Poppies, by Paper Dahlia
•Ballooning, by Momo
•Crosshatch Confetti, by Annie Clark
The four winning designers commented on the inspiration behind their designs:
•Kelly Maron Horvath: "When I read that the Chronicle Books team was looking for "over-the-top-pretty-designs", I knew I wanted to do something with flowers. I know that seems obvious but wanted to make them these modern, graphic flowers instead. Their color palette also really helped to amplify this idea of a bright, spring-time feel with a modern twist."
•Paper Dahlia: "Pretty Poppies is inspired by wood block and etching printmaking techniques. The heaviness of the poppies is balanced by the delicate detail of the herringbone background pattern."
•Momo: "Die cuts, blogs and Esquire magazine were my main sources of inspiration. Die cuts help me decide on shapes and color relationships. Blogs allow me to see all the amazing work that's already out there. Esquire magazine is full of great design elements and inspired me to use texture in my design. I wanted to create something that would make people smile. I've never been in a hot air balloon, but they have such a recognizable shape and look like fun!"
•Annie Clark: "Crosshatch Confetti is the design that I would want to purchase – I'm slightly obsessed with confetti right now and have always loved polka dots. I played with the crosshatch texture and made the circles slightly irregular in shape to make it more than just your everyday polka dot pattern."
About Chronicle Books:
One of the most admired and respected publishing companies in the United States, Chronicle Books was founded in 1966 and, over the years, has developed a reputation for award-winning, innovative books and quality merchandise. The company continues to challenge conventional publishing wisdom, setting trends in both subject matter and format, maintaining a list that includes titles in fine art, cookbooks, children's books, music and popular culture. To visit Chronicle Books online, go to chroniclebooks.com.
About Minted's Design Challenges:
Minted's mission is to allow consumers to discover design genius from all over the world, providing an opportunity for designers to build their careers on merit alone. Minted holds monthly design challenges to source designs from a large global community of designers. The Minted community selects the best designs in a highly competitive and meritocratic process, yielding a top selection of the freshest, finest cards in the world. To that end, Minted's 2011 Holiday Card competition was the company's biggest challenge yet: over half a million votes were cast for 2,554 designs, and the top contenders were chosen by Minted's community for sale
About Minted:
Minted is a venture-backed design community and online store, crowd-sourcing graphic designs and content from a global design community and selling those as premium printed paper products initially focused on the $10 billion stationery, invitations, and cards market.
Minted has radically transformed what consumers now expect in holiday cards, wedding invitations, save the dates, birth announcements,business cards, and other personal stationery. The company's paper and printing is of the highest quality and it leads the market with the freshest designs, newest formats and most coveted details. Minted's fresh, unique designs have been featured on The Today Show and The Early Show, and in Real Simple, Town & Country, InStyle Weddings, Food & Wine and other major national magazines.
###