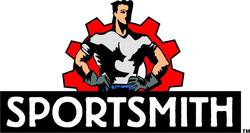 With this program, personal fitness trainers will be able to increase their Web site revenues and customer retention by offering high-quality fitness products to their clients as a value-added service
Tulsa, Okla. (PRWEB) December 3, 2008
SPORTSMITH™ has announced the addition of an affiliate program for personal trainers and fitness-related Web publishers. The SPORTSMITH™ affiliate program will pay commissions to personal fitness trainers and fitness-related Web publishers for sales generated by their Web sites.
"With this program, personal fitness trainers will be able to increase their Web site revenues and customer retention by offering high-quality fitness products to their clients as a value-added service," announced Brad Schupp, SPORTSMITH president.
Personal trainers and fitness-related Web publishers will have access to thousands of fitness products within the affiliate program, and they can start earning income immediately.
According to IHRSA's 2008 Global Report, health club memberships totaled 48,406,000, and the earnings potential for personal trainers and fitness-related Web publishers can be in the thousands of dollars.
"Our program is free to join and easy to use," Schupp said. "As a publisher, you place our links (e.g., banners, buttons or textual links) on your Web site. When a visitor to your site clicks on the link and makes a purchase at our site, you earn a commission (percent of sale) or a bounty (fixed amount). We handle the entire shopping and buying experience. We outsource the management, tracking and reporting of our program, including links, to Google™ Affiliate Network. Additionally, we have a long-standing reputation for hassle-free customer service and fast delivery for more than 10 years in the fitness industry."
For more information, please visit http://www.sportsmith.net or sign up here now.
Media Contact:
Troy Mosley, Marketing Manager
SPORTSMITH LLC
800-713-2880, Ext. 223
###