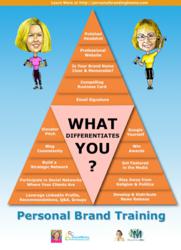 "Google yourself. The result is your digital personal brand." Maria Peagler, Founder, SocialMediaOnlineClasses.com
(PRWEB) September 25, 2012
With the job market more competitive than ever and unemployment at over eight percent, seasoned marketing professionals Mary Ellen Miller of MarketingMel and Maria Peagler of SocialMediaOnlineClasses.com are frequently asked by recent college graduates and small business professionals about employment opportunities and increasing sales. The two entrepreneurs say they advise differentiation through Personal Branding to either find work or increase business profit. They created a FREE one-hour personal branding webinar to provide helpful personal branding how-to tips to college graduates and small business professionals looking for self improvement. The webinar covers 15 steps to differentiate oneself as seen on this infographic.
"Your personal brand is what makes you unique. It is how you differentiate yourself from others," said Miller, an award-winning communications professional, former anchorwoman and founder of MarketingMel. "And, it's how others see you. Think about some of our top celebrities who are great, and sometimes not so great, at personal branding. What comes to mind when you think of Lady Gaga? Kim Kardashian? Justin Bieber? Tom Cruise? Each of them has a unique personal brand."
Miller says similar tactics used by the stars can now be used by "anyone who's interested in making a positive, lasting impression on others."
"We provide information that will be valuable to small business owners, recent college graduates looking for jobs and even seasoned business professionals who want to gain self confidence in today's competitive job market," said Peagler, author of eight books including an Amazon #1 best seller and founder of SocialMediaOnlineClasses.com. "Attendees will learn 15 actionable steps for creating unforgettable personal branding to distinguish themselves in the marketplace."
Peagler adds, "Google yourself: the result is your digital personal brand, and you can be certain that everyone from prospective employers to potential business partners will be Googling you too. Are they seeing a polished professional with a current photo or are they viewing college sorority/fraternity party photos? What kind of business card are you presenting to people? Do you have an 'elevator pitch'? We cover these topics and more."
And this session isn't just for recent grads (although they will definitely benefit from it.) The webinar will also be valuable to small business owners and even seasoned business professionals who want to get that leg up in today's competitive job market. Attendees will hear about the 15 branding tips to stand apart in the current business climate.
Who will benefit from this Free Webinar?
Anyone who is:

Interested in making a lasting impression on others
A current college student
A recent college graduate
A small business owner
Looking for a job
A business professional interested in self-improvement
Simply visit http://www.personalbrandinghowto.com to register and learn more about how to gain strength through personal branding.
About the instructors:
Maria Peagler is founder of SocialMediaOnlineClasses.com offers the World's Largest Selection of 24/7 online classes on Facebook, LinkedIn, Pinterest, YouTube, Twitter, Slideshare, and WordPress. Maria is an award-winning author & publisher of eight books, a veteran technology trainer & she skyrocketed her latest book from unknown to Amazon's top ten for two years using only social media.
Mary Ellen Miller, MBA, is founder of MarketingMel, an award-winning creative firm offering innovative marketing, public relations and social media strategies to business professionals. Miller, a former television news anchorwoman, is frequently invited to speak about marketing trends on television and radio news programs. She is a monthly columnist for Out 'N About magazine and regularly speaks to clubs and organizations about social media marketing and personal branding trends in business.
Register now at http://personalbrandinghowto.com/ and join those who've already listened and loved it like this happy client: "It's AWESOME! I love it! You and Maria rock!" The course gives an in depth look at each of the 15 steps of the personal branding pyramid presented in this infographic. Those on twitter are encouraged to follow the #personalbrandinghowto hashtag.