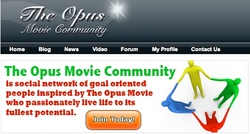 The Opus Movie Community is about people working together to achieve their life's goals and dreams
Trenton, NJ (PRWEB) March 26, 2008
Supporting the world premiere of The Opus movie in Calgary, Canada is the launch of a personal development social network for fans of the film.
The site is called The Opus Movie Community.
"It's a online community where everyone can share ideas and discuss the film," said Steve Goldberg.
The Opus is a film about turning your intentions into accomplishments. It shows people the formula and patterns used by top achievers to create better lives.
"The Opus Movie Community is about people working together to achieve their life's goals and dreams," he said.
It has every feature you would expect from a robust social network, like the ability to setup a profile, add friends, upload photos, send private messages, and chat with other members in discussion forums.
About The Opus Movie Community:
The Opus Movie Community is a social network of goal oriented people inspired by The Opus Movie who passionately live life to it's fullest potential.
###