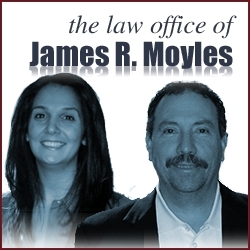 Violations of the 'Steer Clear' and 'Headlights and Wiper Law' can result in fines ranging from $25 - $250
Pittsburgh, PA (Vocus) June 16, 2010
Attorney James R. Moyles wants to remind Pennsylvania drivers that new state laws designed to keep motorists, pedestrians and road workers safe can also result in heavy fines. "Violations of the 'Steer Clear' and 'Headlights and Wiper Law' can result in fines ranging from $25 - $250," says Moyles. "If these driving violations occur within a work or emergency zone, they can be doubled."
Mr. Moyles cites both these state laws as being very effective in preventing and minimizing death and injury due to motor vehicle accidents in Pennsylvania. "Though it is estimated there will be close to 1,500 deaths due to motor vehicle and truck accidents this year, that number has been dropping steadily since the Steer Clear law was enacted in 2006," says Moyles. The Steer Clear law requires motorists to move over or slow down when encountering an emergency scene, traffic stop or disabled vehicle. Failure to do so can result in a summary offense that carries fines up to $250.
As a Senior Deputy Attorney to the State of Pennsylvania, Moyles defended the Pennsylvania State Police as well as the Pennsylvania Department of Transportation. "During my work with the State, I saw first-hand how a driver's lack of knowledge with regard to state driving laws resulted in needless injury and even death." Moyles has recently stated: "If a driver is not familiar with a law that he or she breaks, they can not plead ignorance. Furthermore, a driver who fails to obey these laws may be found negligent and be responsible for any damages which result."
Moyles also cites Pennsylvania's "Headlight and Wiper Law" as another important piece of legislation designed towards minimizing truck and motor vehicle accidents. This law requires motorists to turn on their headlights anytime their vehicles' wipers are in continual or intermittent use. "As a personal injury lawyer, I have been involved in many cases where multi-million dollar settlements and/or verdicts have occurred where drivers were negligent when it came to operating their vehicles," says Moyles. "Citizens awareness of these and other important traffic laws will have a positive impact on death-rates related to motor vehicle accidents in Pennsylvania."
The Law Office of James R. Moyles encourages all drives to be familiar with and to obey all traffic laws and to drive safely at all times. James R. Moyles encourages all Pennsylvania drivers to visit The Pennsylvania Department of Transportation website at http://www.dot.state.pa.us to find out more information on state driving laws. For those traveling this summer, current road and traffic conditions can be found at http://www.511pa.com, or just call 511 from any phone.
The Law Offices of James R. Moyles is located in Pittsburgh, Pennsylvania and specializes in personal injury law with an emphasis on motor vehicle accidents, truck accidents and medical malpractice. For more information, please visit http://www.moyleslaw.com.
###