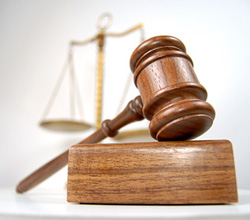 Los Angeles, CA (Vocus/PRWEB) March 23, 2011
Los Angeles personal injury attorney, David F. Makkabi, is now offering both free consultation and no attorney fees until a win. David Makkabi has a proven track record of winning many types of accident and injury lawsuits and now wants to provide better services for all his clients.
Types of Personal Injury Cases
Although David Makkabi sees a great number of auto accident cases come his way, he also works with clients recovering from bicycle accidents, motorcycle accidents, and pedestrian accidents. In addition to being a Los Angeles car accident attorney, he has additionally won cases involving dog bites, construction site accidents, intentional torts, and slip and fall cases.
While some people may be reluctant to bring a personal injury suit against the offending party, personal injury litigation is designed to protect innocent individuals from negligence and negative intentions. By bringing a personal injury case against an individual, business, or government agency, not only is the victim of the negligence compensated, similar, future incidents of negligence will also be subverted.
Other Practice Areas
In addition to his work as a personal injury attorney, Mr. Makkabi also deals with business, real estate, appellate, and bankruptcy cases. He has helped businesses and individuals recover from challenging bankruptcies, and has helped resolve acrimonious disputes between loan participants, lien priority issues, and adversary proceedings that involved bad faith parties and non-dischargeability actions.
About David F. Makkabi
Mr. Makkabi, Los Angeles automobile accident attorney, is an experienced lawyer who has run his own law firm for many years. Besides being an active advocate for his personal injury clients, Mr. Makkabi also spends time working on pro bono cases. Fluent in both Spanish and Farsi, Mr. Makkabi is a Los Angeles auto accident attorney who takes great pleasure in being able to benefit underprivileged members of his community.
His decision to waive attorney fees until he receives a win is a testament both to his confidence and track record, as well as a testament to his commitment to serve his clients with great tenacity and dedication.
To learn more about Mr. Makkabi and the services he provides, visit http://www.makkabilaw.com. You can also call (310) 887-8000 to make an appointment at their office, located at 9454 Wilshire Boulevard, Beverly Hills, CA 90212.
PR by Los Angeles SEO Company
###