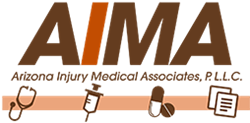 Whether or not a personal injury patient has legal representation, Arizona Injury Medical Associates, PLLC, offers top notch pain treatments covered by the lien!
Phoenix, Arizona (PRWEB) June 30, 2014
The top Phoenix personal injury pain management doctors at Arizona Injury Medical Associates, PLLC, are now accepting lien patients with or without legal representation. The Board Certified injury doctors provide both medical and interventional pain therapies with very high success rates. Call (480) 347-0941 for more information and scheduling.
When an individual is a victim in an auto accident, it becomes a personal decision whether or not to obtain an attorney for representation. Regardless of the decision, top notch pain management should still be available for patients.
At Arizona Injury Medical Associates, PLLC, the Board Certified providers offer customized treatment options for injured patients such as pain medications, trigger point injections, epidurals, facet blocks, joint and soft tissue injections, occipital blocks and more. This offers very high success rates for all types of post-injury painful conditions such as whiplash, back and neck pain, strains, sprains, headaches and spasms.
The providers at Arizona Injury Medical Associates, PLLC, excel at both clinical treatment and administrative paperwork. Most patients underestimate the importance of the medical record in a personal injury case settlement. AIMA's doctors are experts at properly documenting one's condition and treatment to make sure no deficits occur.
For those injured in a motor vehicle accident, it is crucial to seek medical treatment as soon as possible. Several studies have shown receiving pain management treatment shortly after the auto or motorcycle accident can help prevent an acute pain condition from becoming chronic.
For the top auto accident doctors in Phoenix and Scottsdale, call Arizona Injury Medical Associates, PLLC, at (480) 347-0941.