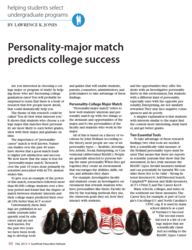 Are you interested in choosing a college major or training program? Research shows you do best what interests you.
Dr. Lawrence K. Jones, NCC
Portland, Oregon (PRWEB) September 28, 2012
Personality-major match and its benefits for students choosing a major is featured in the Fall issue of SEEN, the SouthEast Education Network magazine. In the article, Career Key author Dr. Lawrence K. Jones, NCC shows how educators and the public can use this science-based approach to increase students' chances of college success.
Studies show that students who choose a college major or training program that matches their Holland personality are more likely to earn better grades, stick with their college major, and graduate on time. On page 66 in "Personality-major match predicts college success", Dr. Jones summarizes the research and recommends ways to take advantage of the findings.
Two essential tools to a close personality-major match are:
(1) A scientifically valid career interest inventory measuring Holland's six personality types, like the Career Key; and
(2) A list of college majors scientifically classified by Holland's six personality types (RIASEC). Career Key's ebook "Match Up Your Personality to College Majors" contains the only such list of U.S. and Canadian majors that is up to date. Career Key also creates lists of a specific college's majors for "Colleges that Match Up" using its College Major Match service.
Dr. Jones also recommends using the Career Key's (ACIP) career decision making approach to choose a college major. Using it, students explore their matching programs, narrow the options (Alternatives), weigh pros and cons (Consequences), gather Information about each one, and make decisions and Plans. A full description of the ACIP process and a free download "Decision Balance Sheet" are available at the Career Key website.
SEEN is the first regional educators' and counselors' publication to publicize personality-major match research. The National Career Development Association ran a feature article on personality-major match in its web magazine Career Convergence in February 2012.
Career Key has long had a strong presence in the Southeast region. Dr. Jones is a Professor Emeritus in the College of Education at North Carolina State University. Career Key's career assessment is also part of Georgia's GAcollege411.org, North Carolina's CFNC.org, and Naviance's Succeed. North Carolina State University is one of Career Key's "Colleges that Match Up", soon to be joined by Bishop State Community College in Mobile, Alabama. These schools are found on the Career Key website under "Colleges that Match Up."
About The Career Key®
Since 1997, Career Key has been the #1 online, science-based source for helping people choose careers and college majors. Advertising and registration-free, it offers a valid career test, information, and advice articles based on the best practices and science in the field.