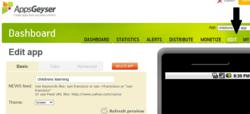 I have spent the past year marketing my brand, it was important to me to continue the color scheme
Alexandria, VA (PRWEB) February 08, 2013
AppsGeyser has, as part of its Android app making tool platform, introduced new features to their Android app making tools that allow app makers to personalize their Android app. The YouTube and RSS app making tools, in addition to the niche app making tool, now have the facility to be personalized by changing the color of the app.
Personalization of Android apps is an important feature because app makers want to make their Android apps stand out from the crowd. It is vital that in design an app reflects the branding of the company to encourage recognition for the company. The added color choices enable companies to create an app to suit their brand.
In addition to the new personalization features, AppsGeyser permits app makers to personalize their Android apps through the advanced settings in the app makers' dashboard. App Makers have the opportunity to upload customised icons, change browser settings and, more technically demanding, create Javascripts to include into their apps. There are a range of personalization tricks that an app maker can use to customise their app.
Sarah Goldman recently created an AppsGeyser Android app, she told us: "I have spent the past year creating and marketing my brand, it was important to me to continue the color scheme in our newly created app too."
AppsGeyser Co-founder Vasily Salomatov, continued, "We feel that it is important to listen to our app makers. In recent weeks we were asked why we don't provide color schemes in our app making tools. Companies who build their brand's reputation find that color schemes are vital to their marketing plan. It was not a question, if, we would implement these new features, but how quickly we could get them onto our tool bar."
About AppsGeyser
AppsGeyser, launched in February 2011, is a fast growing Android app creation platform. AppsGeyser enables users to create apps for Android devices from any web content in under five minutes. AppsGeyser has seen more than 323,000 apps created on its platform. There have been more than 183 million downloads of its apps.