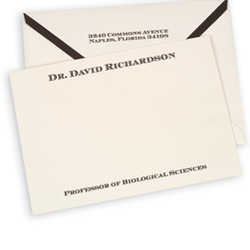 San Francisco, CA (PRWEB) October 24, 2009
You can receive recognition, close a sale, promote good will, build customer loyalty, and make a memorable impression with a simple three or four line handwritten note.
Free shipping ends Oct. 27th and Free return address on envelopes ends Oct. 31st.
Staying in front of customers/clients and prospects can improve sales. "It takes seven to 10 impressions to get a sale and begin to build a relationship." so writes sales guru Jeffery Gitomer. "I am not referring to email, but a note in an envelope with a cool stamp on it."
And this advice from C.J. Hayden, business coach and author of Get Clients Now: "To most people, an anonymous brochure received in the mail is merely junk. A personal, handwritten note on attractive, personalized stationery will get someone's attention. Why? Because you took the time to write it. It makes the recipient feel special. And that's how he or she wants to feel as your customer."
Here are a few reasons to send a note:
1. Always acknowledge an order or referral with a thank you note
2. Copy an article about industry trends or activities of a competitor with an FYI note attached.
3. Send congratulations when a customer/client is being cited for a personal or business achievement
4. Send an article sharing a possible business connection
Follow these simple principles:
1. BEGIN with the reason you are writing
a. "Enclosed is our proposal on your project."
b. "Thought this article would be of interest."
2. Keep it brief and to the point. Don't overdue descriptions, keep it simple and direct.
3. CLOSE with future possibilities . . .
a. "Thank you" for this opportunity . . .
b. "Your consideration is appreciated . . .
c. "Looking forward to being of service."
d. "Will call you next week for next steps."
Results
1. A customer will respond with an expression of appreciation for your effort and/or thoughtfulness.
2. Sometimes you will get a "call back" or get through to a prospect you have been trying to reach.
3. The best result . . . an order.
Good luck and stay in touch!
http://www.classiccommunication.com
"I ordered a set of embossed cards with matching envelopes. I was amazed at how quickly they arrived, but the best part was the cards themselves. They are gorgeous! Even the box they came in with the tissue wrapped around them was so luxurious!" Best, N. Zeiger, Chicago, IL
# # #