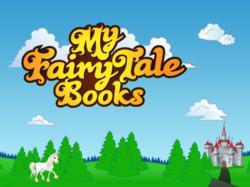 I think it's excellent to read at any age, the earlier the better, especially with the bullying issues around.
Chester, NY (PRWEB) September 13, 2012
MyFairyTaleBooks - A personalized children's book re-seller announced it has joined the world's largest funding platform, Kickstarter, to help subsidize their debut unique title, The Good Friend. Located in Chester, NY, MyFairyTaleBooks, LLC is owned and operated by husband and wife, Kelly and Dinesh Mistry.
As sales have continued to grow with their current array of licensed books, it seemed natural to expand their product offering to include unique titles exclusive to MyFairyTaleBooks. Their first title, The Good Friend falls in line with the company's mission to foster education, encourage positive self-esteem and create joy in the lives of children. The story at it's core is one of friendship- what makes a good friend and how to build strong character in young children. As with all of their products, the main character of the story is your child, as each of their books are personalized per customer.
"Publishing our own unique book has been a dream of ours for 4 years but we weren't ready to bring it to market until we had a strong, relevant concept that we felt passionate about. Now that we have that- we want to partner with our community through Kickstarter, to help bring the project to fruition" says Kelly Mistry.
Aimed at ages 0-7, The Good Friend will allow for numerous personalized areas throughout the story. Authored by Rachel Marie Brown and illustrated by seasoned children's book artist, The Good Friend has already received accolades from a select group of parents who previewed the book.
"I think it's excellent to read at any age, the earlier the better, especially with the bullying issues around."
"Sweet and simple story… I loved personalizing the names, foods, school, and teacher!"
"I absolutely love the message of this story. I think it's such a valuable lesson for preschoolers so that they can learn to be kind, inclusive and helpful when someone is lonely or in trouble…This will help them when they get older to form friendships and help to prevent bullying."
MyFairyTaleBooks officially launched their Kickstarter project on September 11, 2012 in hopes of raising $5,000 by October 25th. If they succeed in meeting their goal, the funds raised will offset the cost of the digital, on-demand printing, and assist with author and illustration fees. "While we are taking every step necessary to ensure a cost-effective, efficient process we also believe strongly that our story is enhanced by the personalization that we provide- making our book unique and cherished by our readers." says Dinesh Mistry. Offering rewards such as friendship bracelets, an autographed copy of the completed book, and an opportunity to be cast as a cameo character in a future children's book will serve as some of the special thank you for helping to fund this unique project.
For the latest number of backers and % raised towards goal visit MyFairyTaleBooks' Kickstarter project. To browse their current selection of personalized books and products, visit http://www.myfairytalebooks.com or call 800-992-FAIRY.