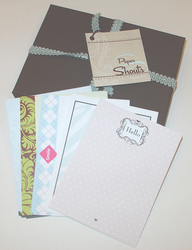 As a company with lots of kids in the family, we were thrilled to be able to celebrate motherhood with some of Hollywood's' most famous moms
Scotts Valley, CA (PRWEB) May 12, 2008
Paper Shouts, provider of posh notes for life's big moments, announced today that it joined Distinctive Assets in celebrating Hollywood Moms this Mother's Day. As part of the celebrity Mother's Day baskets delivered to some of Hollywood's proudest moms, Paper Shouts provided personalized note card sets printed on 100% PCW recycled paper. Paper Shouts chose to personalize card designs intended to reflect the style and personality of each mom and child. The cards included in the Mother's Day baskets reflect the high-quality note cards offered in traditional, vintage and modern designs on http://www.papershouts.com.
The celebrity moms receiving the Mother's Day gift baskets included Christina Aguilera, Elisabeth Rohm, Marcia Cross, Tori Spelling, Angelina Jolie, Jenna Elfman, Halle Berry, Jennifer Lopez, Jessica Alba, Melissa Joan Hart, Jamie-Lynn Spears, Jaime Pressly, Nicole Richie, Jillian Barberie-Reynolds, Nancy O'Dell; Salma Hayek, Keri Russell, Samantha Harris, Bridget Moynahan, Kim Raver, Cate Blanchett, Naomi Watts, Poppy Montgomery, Michelle Williams and Camila Alves.
"As a company with lots of kids in the family, we were thrilled to be able to celebrate motherhood with some of Hollywood's' most famous moms," said Shannon Malliet, president of Paper Shouts. "Motherhood whether you are famous or not is one of life's greatest gifts and should be celebrated."
Paper Shouts products are printed on 100% PCW recycled paper and include shower invitations, birth announcements, kid's birthday party invitations, sweet sixteen party invites, graduation announcements, bar/bat mitzvah invitations, quincineara invitations, wedding invitations, holiday cards, pet announcements, thank you cards, personalized note cards and more.
For more information please visit http://www.papershouts.com
About Paper Shouts, Inc.
Paper Shouts, headquartered in Scotts Valley, California, was created with the mission of giving people a way to share their family news that is not only easy and cost effective but also provides an end result that is as fabulous and personal as the events themselves. Paper Shouts believes the design of an invitation or announcement should be an extension of the personalities of our customers, so we have created a unique set of designs to reflect individual styles--traditional, vintage and modern. For more information on Paper Shouts, please visit http://www.papershouts.com.
# # #