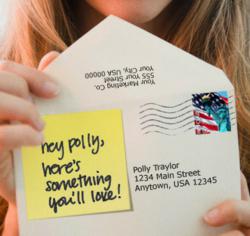 Some companies have seen response rates rise by more than 3% when simply personalizing an ad.
Atlanta, GA (PRWEB) July 18, 2012
In today's fast-paced business culture, marketers have been forced to change their efficiency models. This is good business practice, but during an economic downturn, it marks the difference between losing ground to budgetary liabilities and reaching long-term professional sustainability. After all, this is the age of Facebook, e-mail blasts, and internet-based commerce. In a society so dependent on the latest tech-tools; is there still room for DM campaigns?
Marketing strategists nationwide have answered with resounding affirmation. In fact, DM has shown a consistently high ROI rate. Why? It comes down to quality-testing.
The Staying-power of Value Authentication
According to Kurt Konow, a Chicago marketing strategist at Ricoh, a global technology company, "It's more important than ever to show that direct mailing is still bringing in returns… because it's often the first thing to be eliminated."
Comments like this are the catalyst that's encouraging the professional world to take pause. Companies and consumers alike are taking a second look at DM Methods; and it's paying off. USPS statistics show that mailings are processed through the world's largest retail network. Domestically; the postal service network is larger than McDonald's, Starbucks, and Wal-Mart combined.
With the average business sending out a half-dozen direct marketing ads month; proprietors are beginning to rediscover the value behind this communication juggernaut. Marketing strategists have honed it using a new four step efficiency test.
The Efficiency Model Redesign
Analysts and businesses understand the necessity of changing with the times. Renee Mezzanotte, executive vice president of client services at DMW Direct, a direct response advertising agency in Pennsylvania states, "We're never satisfied with the status quo. There's an expense tied to testing, and marketers can be fearful of that, but you need to prove the performance of a piece because there's definitely more eyes on DM than practically any other part of the budget."
Under the lens of professional scrutiny, Mezzanotte and others like her began to look at testing in a new way. This revamped testing model has four basic steps.
Step one: Use an integrated DM Campaign. The value of social media and online marketing can't be ignored, so use it. The postal service is one of the largest learning management systems available, combine it with a well-timed e-mail reminder, text message, or Facebook offer; and keep an eye on the response rates. This multi-channel approach will cut production time, allow for small adjustments to be made that better fit the target market, and keep the advertising pattern from stagnating.
Step two: Test how well the DM integration works. The best way to test this is through personalization. Personalizing a mailing creates a vested interest automatically. It establishes a relationship between the recipient and the business because the recipient feels valued. This sense of value translates to customer loyalty and increased sales.
There are several personalization techniques that result in increased conversion rates:
1. Add a post-it note or a hand written letter to the ad piece
2. Provide service information to people in need to get them in the door.
3. Make the mailing memorable with a sample or joke.
4. Use revolving special offers.
Step three: Prove that the testing model works. This is where the statistics do the work. Marketing personnel are able to show sales increases and DM response levels based on the campaign variables. These variables include: seasonal advertisements, style changes made to the mailing, how well the campaign addressed the needs of the target groups, etc. This information gauges the success rate of the campaign. It shows what works and what doesn't. Aspects of the model can be amended in later tests which will serve to increase the ROI rate.
Step four: Follow-up. This is the step that keeps the ROI rate on DM Campaigns consistent. In the past, marketing models have relied heavily on lead generation to close sales and increase the ROI. Consumers are more likely to offer referrals when they have an ongoing relationship with the company. This new efficiency test allows marketers to offer deals or send hand written notes to keep that relationship going. It lays the groundwork for retention and referrals to occur naturally.
This efficacy test model needs the time to work properly so marketing partners are encouraging others not to pull the plug too quickly. DMW's Mezzanotte warns, "You can get really tied up, so you have to think about whether what you're testing is really going to move the needle."
Personalization is more time consuming and can be expensive. Since this is the case use strategy, timing, and promotions to get the most advantage from the model and it can easily pay off.
AccurateLeads is a leading provider of direct marketing services that help businesses grow their client basis. Founded in 1984, AccurateLeads has developed a unique process that helps businesses create an individualized multichannel marketing plan to stimulate growth and out brand competition.
For additional information feel free to call our toll free number: (800) 685-4787