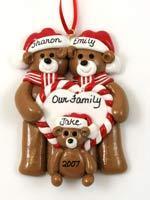 We really have tried to think of every gifting option in the holiday season, from hostess gifts to ornaments you can give your whole family every year as a tradition, and we felt that partner ornaments and family ornaments for the gay and lesbian community were an important addition to our line
Santa Rosa, California (PRWEB) December 19, 2007
Personalized Christmas ornament manufacturer Calliope Designs is always looking to broaden their appeal to families of all shapes and sizes, and this year is no different. Targeting the gay and lesbian families across the US in their marketing strategy has made this holiday season that much more successful.
"Christmas is all about family, and we really believe that every family, no matter the shape or size should be able to celebrate with their own personalized holiday ornament," said Stephanie Eddy, owner and president of Calliope Designs. "We obviously sell a very traditional product, but our personalized ornaments are truly for everyone and we are so excited to be offering partner holiday ornaments to the gay and lesbian families in the US."
Calliope Designs specializes in creating claydough ornaments that can be personalized for any occasion. With categories of ornaments including everything from the traditional Baby's First Christmas to Pet Ornaments and Sports Ornaments any customer can find the personalized ornament that will be the perfect, thoughtful gift.
"We really have tried to think of every gifting option in the holiday season, from hostess gifts to ornaments you can give your whole family every year as a tradition, and we felt that partner ornaments and family ornaments for the gay and lesbian community were an important addition to our line," said Eddy.
The gay and lesbian market demographic is growing quickly in cities and suburban communities alike. Additionally, according to GL Census, 17% of lesbian couples hope to have children and 6% of gay couples also hope to add children to their families. Many of these families want to celebrate the traditions of their own childhood and gay and lesbian holiday ornaments can make the holiday feel that much more inclusive.
"Every person, family and child deserves to celebrate their holiday in a personal way, and that's why we love our ornaments - they prompt the creation of traditions. We have ornaments with partners, partners with one child and two children and more. This means you can find the ornament that represents your family in that moment every year," adds Eddy.
About Calliope Designs
When Dorr and Stephanie Eddy began making bread dough ornaments in their kitchen in 1972 they had no idea how popular their handmade Christmas tree decorations would become. Today, after more than 35 years of distributing their Christmas tree ornaments through fine retailers and major department stores nationwide, their whimsical little clay dough ornaments are treasured by children and grownups all over the world.
Each Calliope dough and claydough ornament is an original creation designed by Dorr Eddy. The unique character of each personalized Christmas ornament adds to the style of a completely handmade product. The bright colors and high gloss coating add to the ornament's attractiveness and durability. The special techniques and the tools we have created greatly enhance our consistent quality.
Every design can be personalized to order creating a unique and treasured gift.
# # #