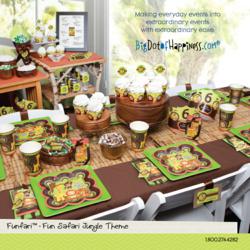 The sky is the limit with our products – personalization is our middle name and we will make your event You-nique.
~ Jill Bladl, Customer and Social Community Manager
Menomonie, WI (PRWEB) September 13, 2012
In response to the party planner's increasing demand for exclusive party supplies, BigDotOfHappiness.com makes personalized party decorations that have unlimited wording options for every celebration. BigDotOfHappiness.com is proud to offer the ability to add any special message for any occasion to all of their personalized products – and ship those personalized items within 24 hours of ordering, an impressive ability taken advantage of by many clever Hostess Heroes.
"I am continually amazed at what our Hostess Heroes come up with," says Jill Bladl, Customer and Social Community Manager. "The sky is the limit with our products – From editing the text to using the Big Dot Concierge Service for changing any of the colors or characters on all of our themes, personalization is our middle name and we will make your event You-nique."
The Expert Experts at the Big Dot Shops have taken note of their creative customer's personalization requests and compiled a list of the Top 5 Personalized Invitation Ideas.
1. Baby Shower:
The news just came in that someone is glowing –
On Ashley, a small bump is growing!
2. Bridal Shower:
With a spark so bright –
Ashley has found her Mr. Right!
3. Birthday Party
Toot the horn and bang your drum –
It's a birthday party and we want you to come!
4. Anniversary
Side by Side - Year by Year,
Christine and Craig's 40th Anniversary is Near
5. Baptism
All of God's grace in one little face –
In His name, a Baptism will take place.
"The unique items at the Big Dot Shops aren't just for parties, as many clever customers use them year-round to promote their business or non-profit charity," states Bladl. Candy bar wrappers are a favorite and frequently personalized for real estate agents and personal assistants, promoting community service, and people running for public office or election in educational institutions. Banners make it easy to recognize graduates, retirees or special achievements in a classroom.
Hostess Heroes that want to go the extra mile at their event will personalize invitations with the name of the event followed by the date, menu and time of activities listed below to be displayed at each place setting the day of the party, giving guests a special keepsake to remember the occasion. "The customer is the boss and will print whatever they want on any personalized item – and it will still ship within 24 hours. That's why we are the personalization experts," says Bladl.
About Big Dot of Happiness, LLC
Big Dot of Happiness, LLC, is an event party company and the originator of various games, invitations and themed party supply products called "Big Dot Originals." With personalized invitations, impressive party favors and unique party decorations, Big Dot of Happiness, LLC, makes everyday parties into extraordinary events. Making life's occasions fun. It's about time. "We create remarkable smiles by embracing a remarkable culture."
Contact:
PR Coordinator
Big Dot of Happiness, LLC
1.800.274.4282
http://www.bigdotofhappiness.com