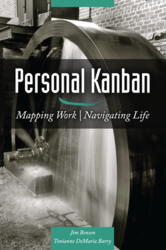 Personal Kanban is a must read for knowledge workers and their leaders who recognize that old productivity models don't apply to knowledge work and seek a more realistic and centered approach.
Seattle, Washington (PRWEB) February 08, 2011
We all want to do a good job - for our colleagues, our family, and ourselves. Overwhelmed with obligations and inundated with work, we multitask without even realizing it. We let important tasks slip through the cracks, we embark on tasks we never finish, creating, responding to, and existing from one emergency to the next. Working like this is unsustainable; it decreases our effectiveness and perpetuates a vicious cycle. Wouldn't we rather be more effective in our careers, spend more time being "present" with those we love, and ultimately feel more in control of our lives?
Published today by Modus Cooperandi Press, Personal Kanban: Mapping Work | Navigating Life by Jim Benson and Tonianne DeMaria Barry describes the forces standing between us and effectiveness. Personal Kanban is a simple and elegant system to help individuals and teams make better decisions and live more effectively.employer, our co
"Personal Kanban is all about understanding and effectiveness. People are so busy they can't see past their daily to-dos. They let options slide by while working on tasks of little value. At any given time, we want to know what we are doing, be able to communicate that to others, and see what our true options are," said Jim Benson, CEO of Modus Cooperandi, a collaborative management consultancy. "Other personal and team management systems are top-heavy, requiring significant work to update and maintain. Personal Kanban runs in the background, always providing you with information and not adding additional work or pain."
Personal Kanban is a system that has only two basic rules: Visualize Your Work and Limit Your Work-in-Progress.

Visualize Your Work - We better understand what we can actually see. Personal Kanban provides a map of your work, showing what you are doing, what has been done, and what remains. It takes tasks loosely scattered in your brain, and organizes them into one, easily graspable image. Your brain can then process your work as one manageable object.
Limit Your Work-in-Progress (WIP) - When we attempt to do multiple things at once (multitasking), or shift focus from unfinished task to unfinished task (task switching), we lose effectiveness. Personal Kanban visually limits the number of tasks we have in progress to a number we can manage. We must complete one task before another can be pulled from the queue. This forces responsible prioritization and ensures completion.
Personal Kanban is inspired by Lean management systems (such as those used by Toyota, General Electric, and major hospitals worldwide), Agile software development methods (such as Extreme Programming and Scrum), and social media. It incorporates Lean concepts such as flow, visual controls, and limiting work in progress, Agile concepts like small batch sizes, tight teams and retrospectives, and social media's creation of shared artifacts and networked communications. Combined, these create a system that manages personal work, informs teams, and leads to a lifestyle of continuous improvement.
Following World War II, U.S. automakers focused on increasing productivity to meet a seemingly insatiable domestic demand. Meanwhile in Japan, faced with a decimated economy and limited resources, Toyota discovered their success hinged not on increasing productivity, but effectiveness. To this end, the nascent auto manufacturer launched a fairly radical campaign: to create a culture of continuous improvement, where the workforce had clarity of purpose and the ability to affect change. This innovative way of thinking (later called "Lean") transformed this small island nation into a world-class producer of recognizably high quality automobiles. Toyota's reputation for excellence rested on destroying the myths of productivity and control, replacing them with effectiveness and flow.
Personal Kanban borrows from several Lean principles and practices. With just two simple acts - visualizing work and limiting work-in-progress - Personal Kanban gives us clarity over our work and our goals, and the unprecedented ability to deal with distractions, manage expectations, make better decisions, and ultimately find a healthy balance between our professional, personal, and social lives.
It is a simple, elegant mechanism that helps us manage ourselves, but also lets us share our work, our goals, and our epiphanies with others. It is a visual launch pad to personal effectiveness, spontaneous collaboration, and an integrated life.
Personal Kanban: Mapping Work | Navigating Life discusses not only the mechanics of Personal Kanban but also how concepts like the flow of work and systems of continuous improvement are easily incorporated into how we live. The book is a compelling introduction to understanding, controlling, and communicating our workload at the office, at home, and in life. Its simplicity and effectiveness has already helped thousands of people raise their personal and team effectiveness in a wide-range of fields including education, software development, consulting, customer service, and accounting.
Personal Kanban: Mapping Work | Navigating Life has already been endorsed by leaders from both industry and government world wide. These include:
Carmen Medina: Director of Intelligence (Retired) Central Intelligence Agency:
Personal Kanban is a must read for knowledge workers and their leaders who recognize that old productivity models don't apply to knowledge work and seek a more realistic and centered approach. The ideas are deceptively simple but in that simplicity is their strength. As soon as I finished reading it, I started drawing out the landscape of my projects and felt much the better for it.
Ross Mayfield: CEO of SocialText: Personal productivity systems usually fail in practice because of complexity and they don't reflect the collaborative nature of real work. Personal Kanban provides the simplest structure that could possibly work and lets you achieve a state of flow.
Jerry Michalski: guide, Relationship Economy eXpedition: Trying to get more effective? Why use Rube Goldberg systems of tabulated notebooks and special-purpose inserts? Instead, consider a system that flows like a stream and focuses your attention, both on the task at hand and on making your process more effective. That's what Personal Kanban is, and it may just fit your thinking and doing style.
To learn what others have to say about Personal Kanban: Mapping Work | Navigating Life, please visit http://personalkanban.com.
About the Authors
Jim Benson's 20 years since university have seen him build light rail systems and neighborhoods as a urban planner, enterprise software and web sites for major government agencies as the owner of Gray Hill Solutions, and, most recently, as a collaborative management consultant helping create better working environments for teams of all sizes. Jim's experience has always included the concept of community, be it from a physical, regulatory, technological, emotional or political angle.
Jim has worked with corporate, government, and not-for-profit organizations of all sizes. Taking Lean principles from manufacturing and Agile methodologies from software design, Jim Benson and Modus Cooperandi help individuals, teams, and organizations design collaborative systems. These systems are often built using social media technology as an enabler for communication and collaboration.
Tonianne DeMaria Barry's consulting career spans the fashion industry and government agencies, non-profit associations and Fortune 100 corporations, start-ups and international development. Her academic training in history lends itself well to management consulting, where she contends that especially in business, the present value of the past is often under-appreciated.
Forever asking Why and How things happen, she helps her clients uncover, analyze, and interpret their institutional artifacts. Leveraging the stories and values embedded within an organization's culture, she helps individuals use their history to establish priorities, achieve goals, and make informed and innovative decisions. Much like Personal Kanban itself, she wants her clients to acknowledge their past and present contexts, appreciate the interconnectedness and flow of events, and extract lessons from the patterns which emerge so they can better plan for the future.
About Modus Cooperandi
Performance through Collaboration: Jim Benson chose this motto after years of working with teams and observing their interactions. When team members are stuck, their peers come to their aid. When they have a good idea, others improve upon it. Through collaboration, effective teams find efficiencies, ultimately increasing throughput, decreasing waste, and significantly improving morale.
Modus Cooperandi sees collaboration as the primary vehicle for group performance. Information sharing, cross training, rapid problem solving, group ownership of tasks, reprioritization, and a strong focus on the completion of quality products are the building blocks of successful teams. Modus has worked with organizations of all sizes, from individuals to multinational corporations and world governments. The fact is, waste occurs when people stop talking, and Modus works with teams to identify the conversations that need to happen now and in the future.
Modus recognizes the pressures placed on groups to perform, and understand that factors like policies, growth, partnerships, and internal politics directly impact that performance. Each team or organization has its own dynamic. Modus helps teams learn to create tools and practices that create collaborative systems, make constraints explicit, reward innovation, and provide meaningful performance metrics.
###