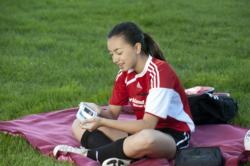 This series of free educational webinars empowers people with lung disease to take control of their condition. At PMD Healthcare, we believe education can help save lives
Allentown, PA (PRWEB) September 18, 2012
PMD Healthcare is conducting a series of free webinars to help educate and empower people with lung diseases – asthma, chronic obstructive pulmonary disease (COPD), bronchitis, emphysema, cystic fibrosis (CF), and lung transplants – to better manage their condition.
PMD Healthcare manufactures Spiro PD, the world's first truly personal spirometer. Spiro PD empowers people with lung diseases to easily and accurately monitor their breathing any time and anywhere: at home, at work, at school, at play, or while traveling.
The webinars feature both healthcare professionals and patients. The most recent in the series deals with the latest trends in spirometry. Rebecca Russell, Patient Education Specialist at PMD Healthcare, also hosts a webinar that discusses how to use Spiro PD.
In other webinars in the series, Michael S. Blaiss, MD, Board of Directors of the World Allergy Organization, examines how physicians integrate personal spirometry into treatment plans. Laura Tillman, President of CF Roundtable and Board of Directors member of USACFA, discusses improving the quality of life for cystic fibrosis patients. Carol Jones, RN, Certified Asthma Educator and Consultant (AE-C), Allergy & Asthma Network Mothers of Asthmatics (AANMA) Consultant, deals with how to prepare for spring allergy season. And allergy/asthma patient MaryAnn Leonardo speaks about how to decipher asthma triggers. To view the webinars, visit http://spiropd.com/get-more-information/. All are free of charge.
Says Rebecca Russell, "Education is key to early detection and prevention of life-threatening exacerbations. This series of free educational webinars empowers people with lung disease to take control of their condition. At PMD Healthcare, we believe education can help save lives."
For more information about all the advantages that Spiro PD offers people with respiratory conditions, please visit http://www.SpiroPD.com.
About Spiro PD
"Spiro" stands for spirometer, a device used to measure air entering and leaving the lungs; "PD" stands for personal device. Spiro PD is the first personal spirometer that enables people with lung diseases – asthma, COPD, CF, and lung transplants – to easily and accurately monitor their breathing anytime and anywhere.
Spiro PD tracks lung function trends to help patients anticipate and prevent exacerbations and asthma attacks, which helps reduce expensive emergency room visits and hospital stays. According to a recent study of cystic fibrosis patients at Johns Hopkins University, home spirometry detected exacerbations 16 days before patients felt symptoms and sought medical care(1).
Spiro PD enhances medication adherence. The medication alarm helps patients remember to take their medicine. The medication history provides a time stamp to show doctors that patients have been following their therapy.
Spiro PD also allows patients to set alarms reminding them to perform spirometry tests and do breathing exercises. Plus, patients can quickly upload data to their computer and share it with their doctor.
Spiro PD is cleared by the FDA for home use by the patient to test lung function in children, adolescents, and adults. Many insurance companies cover the cost of Spiro PD.
Spiro PD meets American Thoracic Society (ATS) and European Respiratory Society (ERS) standards. Spiro PD is also certified with the CE mark for the European Union (EU).
For more information, visit http://www.SpiroPD.com.
About PMD Healthcare, Inc.
PMD Healthcare, manufacturer of Spiro PD, is dedicated to creating innovative, easy-to-use, portable, and affordable personal medical devices that empower people worldwide to improve their healthcare and quality of life. For more information about PMD Healthcare and Spiro PD, please visit http://www.SpiroPD.com.
1. West NE, Boyle MP, Mogayzel PJ, Riekert KA, Lechtzin N. The ability of home spirometry and symptom monitoring to predict exacerbations in cystic fibrosis. Pediatric Pulmonology 2009; Vol. 34, S32 "Poster Session Abstract" poster 376.