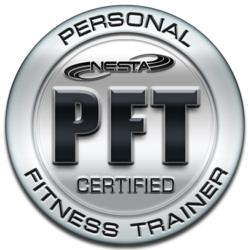 NESTA is the only personal trainer certification to be approved by both NBFE and NCCA
(PRWEB) February 22, 2012
After a recent comprehensive review of the National Exercise & Sports Trainers Association's (NESTA) Personal Fitness Trainer Certification, the National Board of Fitness Examiners (NBFE) named the program a fully approved affiliate. NESTA is the only personal trainer certification that is both accredited by the National Commission for Certifying Agencies (NCCA) and maintains full NBFE affiliation status.
The comprehensive review of the NESTA Personal Fitness Trainer program included analysis of seven major test areas and 16 measurable test objectives to ensure that graduates of the program are prepared to take the NBFE National Board Exams. NESTA's score was a nearly perfect 98.88. The affiliate status remains current for five years.
NESTA's Personal Fitness Trainer Certification Program, which consist of video lectures and an interactive, digital manual, is 100 percent online and self-paced. In addition, the program includes business advice on establishing, marketing and succeeding in the personal trainer fitness industry, which continues to outpace most industries in terms of both short- and long-term job growth.
"We couldn't be more proud of this recent full affiliation recognition from the NBFE, which offers gold standard approval in our industry," said John Spencer Ellis, founder of NESTA and John Spencer Ellis Enterprises, a fitness and personal development solutions company. "We believe that our Personal Fitness Trainer Certification offers the best of science and research, practical application, and useful business models and advice for both new and continuing personal trainers, and we are very pleased with the recognition from the NBFE."
In addition to the NBFE approval and affiliation, the Department of Veteran Affairs recently approved NESTA's Personal Fitness Trainer Certification Program for reimbursement under the GI Bill.
About the National Exercise & Sports Trainers Association
Since 1992, the National Exercise & Sports Trainers Association (NESTA) has been a leader in innovative solutions for fitness, nutrition and wellness professionals, as well as club owners. Founded by John Spencer Ellis, NESTA now has more than 55,000 members in 55 countries, and it is one of the largest fitness associations in the world, as well as the fastest growing association of its kind in the United States. For more information on the NESTA Personal Fitness Trainer Certification, please visit http://www.nestacertified.com/
###