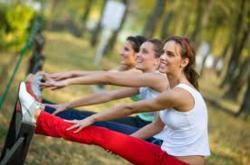 A failure establishes only this, that our determination to succeed was not strong enough. ~ John Christian Bovee
Chino Hills, CA (PRWEB) February 15, 2012
Studies consistently show that most new gym members sign up in January, but cancel their memberships within six months. This can be considered a failure of personal trainer marketing, according to Sam Bakhtiar, owner of the Fit Concepts franchise in Chino Hills, California and millionaire personal trainer. It is not difficult to find new members at a time when everyone is focused on a fresh start and New Year's resolution to lose weight. Yet, sustaining their interest can be a challenge. Over the past 20 years, Sam has refined his methods and come up with 4 essential tips for running a sustainable business in 2012.
1. Stay Fresh. "Good personal trainer marketing is about making a new client feel as though he or she is your only client. From the day my people sign up, I am there – always," Sam explains. "I send them welcome cards with motivational quotes and pictures. I send them goal statement cards, milestone cards, holiday cards, event cards, and notes just because. Keep an eye on your new people to make sure their attendance is not dropping. If someone misses a class, you'd better be on the phone."
2. Brand Yourself. "You need to eat, sleep and breathe your brand every day. Your brand becomes a promise to the client that you stand for the highest values and quality in your business. You want to become a source of great enjoyment for your clients, so it's easier to prioritize you and harder to live without your services."
3. Use Methods That Work. "There are limitless methods of personal trainer marketing online these days," Sam says, "but you need to know which ones lead somewhere and which ones are all hype. First and foremost, referrals are our bread and butter. Daily deal sites will get you tons of leads, but you need to be ready to handle the volume and convert. Google has always been a vital part of any online business. Running contests, challenges and promotions to keep your existing people engaged is well worth your money and effort, as retention is cheaper than new client acquisition. Public speaking events are a great way to get your face out in front of the community and I always recommend trade show lead boxes as well."
4. Don't Put All Your Eggs In One Basket. According to Sam, "This industry is all about multiple revenue streams. Run a boot camp program in addition to your individual personal training. Sell e-books, podcasts of your workout music, DVDs, webinars, and branded workout clothes. Get into selling energy bars, smoothies, supplements, protein powder, educational materials, or another affiliate product. Use advertising on your blog to generate passive income. The more irons you put into the fire, the more income you bring in, plain and simple."
Visit http://www.super-trainer.com to get a step-by-step personal trainer marketing manual, which is being offered free for the month of February ($97 value).
About Sam Bakhtiar
Sam Bakhtiar is a Persian-born American with over twenty years of experience in fitness training and body building. After completing B.S in Premed and Nutrition, Sam also received a degree of doctorate of Chiropractics. Along with being one of the best fitness trainers, Sam is also a business and marketing expert. After establishing a successful fitness training business with substantial income, Sam is helping other professionals in the industry to achieve their business goals. For more information, please contact using the following information.
Contact Information:
Sam Bakhtiar
Fitness Concepts
909-393-9075
http://www.super-trainer.com
###