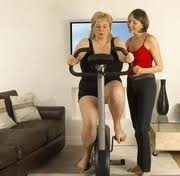 The highest form of ignorance is to reject something you know nothing about. ~ Dr. Wayne W. Dyer
Chino Hills, CA (PRWEB) February 16, 2012
Personal trainer marketing is a science, according to Chino Hills Trainer and Entrepreneur "7Figure" Sam Bakhtiar. One can borrow from psychological principles to develop a more effective marketing system in 2012. Here is Sam's tip sheet on how to sell more personal trainer packages and gym memberships by appealing to people's deep-seated needs. "When creating ads, cater to people's wants by following what I call the Life Force 8 – the eight primary wants that are biologically ingrained in every human being."
1. Survival and enjoyment of life
2. Enjoyment of food and beverage
3. Freedom from fear, pain and danger
4. Comfortable living conditions
5. To be superior, winning and keeping up with the Joneses
6. Sexual companionship
7. Care and protection of loved ones
8. Social Approval
So, how does this translate into personal trainer marketing? "One of our most successful marketing methods is to run internal contests and competitions, which appeals to #5," Sam explains. "Yet, the winner is also working toward #8 and possibly #1 or #2, depending on the prize we're offering. For all marketing materials, we try to show people how participating in our programs will lead to all these others desirables."
Sam Bakhtiar adds that one should also use the "six weapons of influence in marketing," according to Robert Cialdini's book Influence. These weapons include:
1. Comparison
2. Liking
3. Authority
4. Reciprocation
5. Commitment/Consistency
6. Scarcity
"We always want our prospects to know that our generous offers won't last long and that space is limited – which plays off the weapon of Scarcity," Sam says. "We stress the Commitment/Consistency aspect with people who may have stopped using our services that we want back."
He adds, "Then, when you're selling, use examples, rather than statistics. Examples outperform stats because they invoke emotion. I find it's very effective to get testimonials from real people to show others how we're helping those in similar situations. They think, 'Well, if that person can do it, why can't I?'"
This is just a general tip sheet, but Sam Bakhtiar offers more specific advice and a step-by-step guide to more specific changes personal trainers can make to their business models to start making over $100,000 a year. For the month of February, Sam Bakhtiar is offering a free download of his "Six Figures in 67 Days" e-manual and training program. This tested, tried and true fitness marketing program can be accessed at http://www.super-trainer.com.
About Sam Bakhtiar
Sam Bakhtiar is a Persian-born American with over twenty years of experience in fitness training and body building. After completing B.S in Premed and Nutrition, Sam also received a degree of doctorate of Chiropractics. Along with being one of the best fitness trainers, Sam is also a business and marketing expert. After establishing a successful fitness training business with substantial income, Sam is helping other professionals in the industry to achieve their business goals. For more information, please contact using the following information.
Contact Information:
Sam Bakhtiar
Fitness Concepts
909-393-9075
###