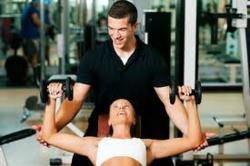 Forget about all the reasons why something may not work. You only need to find one good reason why it will. ~ Dr. Robert Anthony
Chino Hills, CA (PRWEB) February 20, 2012
Personal trainers often reach some point in their careers where they feel like they are expending too much time and energy working for someone else, when they should be working for themselves and reaping all the financial rewards of entrepreneurship. Over the course of his 20+ year career in fitness, Sam Bakhtiar reached this point and learned his personal trainer marketing from millionaires who were living the lifestyle he wanted. Now he's sharing his $97 personal trainer marketing course free for the month of February at http://www.super-trainer.com.
"Why am I offering my personal trainer marketing course for free this month?" the Chino Hills personal trainer and fitness mentor muses. "I feel February is a good month to help busy personal trainers escape the rat race. Also, my latest batch of aspiring entrepreneurs is out in the field, tearing it up, so I'm ready for a new crop. I have people calling me to say they're well on their way to six figures in just six weeks. One guy said he set a goal of reaching $50K in profits for the year, but he's already made $100K in just a few months."
"Personal trainer marketing is nothing more than taking systems that work and applying them to one's business," says Sam Bakhtiar. The American fitness market is vast – and hungry. People are moving from gym to gym, product to product, and trainer to trainer on a quest to find something that works. It's Sam's hope that he can train enough people to take the industry to a new level, improving the quality of service and income for the best trainers – and, of course, weeding out those who are giving the industry a bad rap with sub-par services.
"If I were to describe the objectives for my personal trainer marketing course, I think I would say it helps you make money off your fitness business while you sleep. It shows you how to train clients wherever you are in the world. It helps you create an online training program that will bring in high six and seven figure paydays. And it enables you to work less, make more and get off the ground, working for yourself."
Not only does Sam's personal trainer marketing course provide specific step-by-step actions for personal trainers to take, but Sam Bakhtiar himself contacts each new student to discuss his or her business objectives and ensure success. "Sam truly gets it," says student Brett Riesenhuber. "Not only does he provide ideas and motivation, but he backs it up with total support and I know he won't let me fall through the cracks."
About Sam Bakhtiar
Sam Bakhtiar is a Persian-born American with over twenty years of experience in fitness training and body building. After completing B.S. in Premed and Nutrition, Sam also received a degree of doctorate of Chiropractics. Along with being one of the best fitness trainers, Sam is also a business and marketing expert. After establishing a successful fitness training business with substantial income, Sam is helping other professionals in the industry to achieve their business goals. For more information, please contact using the following information.
Contact Information:
Sam Bakhtiar
Fitness Concepts
909-393-9075
http://www.super-trainer.com
###