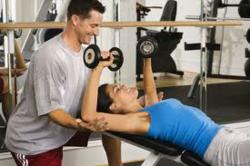 Imagination is more important than knowledge. ~ Albert Einstein
Chino Hills, CA (PRWEB) February 21, 2012
The explosion of smart phone popularity has led many professionals to consider mobile campaigns for their personal trainer marketing in 2012. According to the comScore Data Mine, 76.8 million Americans owned smart phones in 2011, up from 57 percent in 2010. It's possible to target clients and prospects like never before. The fitness industry is especially suited for mobile marketing, as the same people who place a high value on fitness are the same people who understand the benefits of technology.
"There are several ways to approach personal trainer marketing via mobile," explains Sam Bakhtiar, owner of the Fit Concepts franchise in Chino Hills, California. "I recommend developing an app for your business, so you can make information about your services more accessible and open the doors to greater interaction with your clients. We use our app to deliver reports, e-books, videos, newsletters, nutrition tips, exercise demos, workout schedules, and tools like calorie counters or nutrition journals."
QR codes are another valuable method of personal trainer marketing with mobile technology. By placing QR codes on one's advertising materials, clients and prospects can gain instant access to a company or trainer's app and get additional information regarding programs, services and promotions. It's an opportune way to go beyond the limits of 4-inch ad space and make use of more interactive mediums like video or games.
SMS advertising involves creating personal trainer marketing campaigns via text. Often, a text message will send discount offers to opt-in subscribers to increase the likelihood that prospects will take advantage of the offer. This is an ideal way to boost studio traffic during slow periods and share Groupon or Living Social deals with a greater audience.
"More and more, personal trainers are using mobile personal trainer marketing to reward their most loyal clients and drive retention," Sam adds. "At our training studio, clients scan a QR code whenever they enter to track how often they show up. Good customers then receive discounts and coupons that unlock after a certain number of scans. This, of course, breeds more loyalty to you, so it's a win-win situation."
What Sam hopes to show personal trainers is that mobile marketing doesn't need to be a headache or a hassle. With programs like Contact One, they can spend a little creative time initially and then fully automate the process, so their personal trainer marketing is up and running 24/7.
Personal Trainer Marketing Expert Sam Bakhtiar is offering his "10 Laws of Mobile Fitness Marketing" guide FREE for the month of February. This offer may be redeemed by visiting http://www.super-trainer.com and clicking on the "fitness mobile marketing" tab or by texting the word "CLIENT" to 77453.
About Sam Bakhtiar
Sam Bakhtiar is a Persian-born American with over twenty years of experience in fitness training and body building. After completing B.S in Premed and Nutrition, Sam also received a degree of doctorate of Chiropractics. Along with being one of the best fitness trainers, Sam is also a business and marketing expert. After establishing a successful fitness training business with substantial income, Sam is helping other professionals in the industry to achieve their business goals. For more information, please contact using the following information.
Contact Information:
Sam Bakhtiar
Fitness Concepts
909-393-9075
http://www.super-trainer.com
###