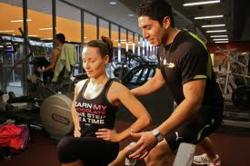 Look at everything as though you were seeing it either for the first or last time. Then your time on earth will be filled with glory. ~ Betty Smith
Chino Hills, CA (PRWEB) February 24, 2012
It took six months to write the "Six Figures In 67 Days" personal trainer marketing manual. Yet, that was nothing compared to the two decades of research, field tests and experience that these pages contain. Personal trainers across the country are reporting incredibly fast results by implementing the program, which is currently being offered as a free download at http://www.super-trainer.com.
"The first most important thing I've learned about personal trainer marketing is that it's all about focusing on the client rather than trying to chase as many new leads as you can or expand to as many markets as possible," Sam explains. So a big portion of his personal trainer marketing program focuses on how to improve core services and offerings that are worthy of promotion. This, in turn, leads to more referrals and a business that grows beyond one's wildest expectations as more people join for "the experience" of a particular training studio.
Sam adds, "I know it sounds ambitious, but I really want to transform the industry nationwide by creating a breed of trainers who are more knowledgeable, more ethical and more able to produce the high level of professionalism and service our clients expect from us." The caliber of personal training emerging from smaller facilities is really impressive, Sam says, as industry professionals learn more from disgruntled members of the big box gyms.
"The second most important thing I've learned in over two decades of personal trainer marketing is that we don't need to try so hard to reinvent the wheel. We can all profit off the same methods, the same systems and the same principles that have worked for millionaire trainers from the very beginning." Sam explains that much of his success came from being able to set his ego aside and outsource some of his tasks to professional partners like secretaries, other trainers, copywriters, online advertisers, publicists and others.
"I consider personal training to be a perfect business," Sam says. "Personal training is a continuity service that is personality based -- allowing you to bond emotionally -- and it's a high-ticket business. All three factors work in your favor." Most fitness business professionals just need to learn the successful personal trainer marketing strategies that their competitors are using to get their names out in their communities.
In the "Six Figures In 67 Days" personal trainer marketing manual, trainers can expect to learn from Sam's successes and failures to save years in trial-and-error. They will read about all the most successful practices used by top-producing studios, not to mention a step-by-step blueprint for implementing these strategies. Those looking for more one-on-one direction can call Sam for a free business coaching call or sign up for one of his dynamic weekend workshops.
About Sam Bakhtiar
Sam Bakhtiar is a Persian-born American with over twenty years of experience in fitness training and body building. After completing B.S in Premed and Nutrition, Sam also received a degree of doctorate of Chiropractics. Along with being one of the best fitness trainers, Sam is also a business and marketing expert. After establishing a successful fitness training business with substantial income, Sam is helping other professionals in the industry to achieve their business goals. For more information, please contact using the following information.
Contact Information:
Sam Bakhtiar
Fitness Concepts
909-393-9075
http://www.super-trainer.com
###