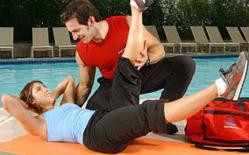 All of us perform better and more willingly when we know why we're doing what we have been told or asked to do. ~ Zig Ziglar
Chino Hills, CA (PRWEB) February 27, 2012
Aspiring personal trainers don't think twice about spending money on a college program to learn the basics of anatomy, physiology, sports medicine and nutrition. They pay for their certification training and soon they are working in a studio somewhere. Yet, maintaining ongoing education and taking courses in personal trainer marketing is just as important if someone wants to be successful in the fitness industry.
Sam Bakhtiar is a multi-millionaire fitness trainer, boot camp owner, and personal trainer marketing consultant from Chino Hills, California. He has a B.S. in Premed and Nutrition, a doctorate of Chiropractics and more than 20 years of industry experience. For years, he has offered free advice on his blogs, downloadable books and dynamic weekend workshops. Now he is offering one-on-one business coaching, where he provides marketers with his entire blueprint for success, which guarantees to skyrocket one's income, all while reducing work hours.
Sam decided to initiate this type of personal trainer marketing after seeing what an impact his mentoring could have if he invested more one-on-one time and effort. Jeff Sherman was one of the early adopters of Sam's program. Sam started coaching him in October 2011. A decade prior, Jeff had left the big chain gym to venture out on his own. He was the fitness center's top trainer, so he figured the clients would come easily.
"After a few months, I realized it doesn't matter how good of a salesperson you are or how good at training you are… if there is no one to sell to," Jeff admits. "I really underestimated how much work it was going to be and I became a slave to my business – trying to do it all on my own for over three years." He adds that he spent the next three years learning the ropes in personal trainer marketing. "My goal was to master my business and not let my business master me."
Every successful individual in the fitness industry mentions an experience where they met the right person at the right time and skyrocketed to success. Trainers who want to win need to surround themselves with likeminded people who have been there, done that. For Jeff Sherman, that person was Sam Bakhtiar. Even Sam himself admits that he met several multi-millionaires in the fitness industry who changed his life as well.
Through Sam Bakhtiar's one-on-one personal trainer marketing, Jeff Sherman learned to create systems for everything – for open and close checklists, sales, scripts, emails, follow-up, nutrition programs, client reactivation, networking and marketing. Once Jeff got the systems in place, he taught them to his employees to get more of his freedom back. For more information on personal trainer marketing mentorships and business coaching, visit http://www.super-trainer.com.
About Sam Bakhtiar
Sam Bakhtiar is a Persian-born American with over twenty years of experience in fitness training and body building. After completing B.S in Premed and Nutrition, Sam also received a degree of doctorate of Chiropractics. Along with being one of the best fitness trainers, Sam is also a business and marketing expert. After establishing a successful fitness training business with substantial income, Sam is helping other professionals in the industry to achieve their business goals. For more information, please contact using the following information.
Contact Information:
Sam Bakhtiar
Fitness Concepts
909-393-9075
http://www.super-trainer.com
###