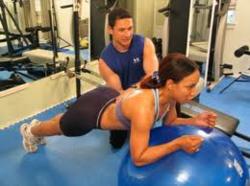 The will to win, the desire to succeed, the urge to reach your full potential? these are the keys that will unlock the door to personal excellence. ~ Eddie Robinson
Chino Hills, CA (PRWEB) February 28, 2012
In a perfect world, every fitness trainer would be passionate, dedicated, knowledgeable, friendly – simply the best. A person looking to get fit could call up the local expert and receive top-notch service that truly worked. Gym memberships would soar due to individualized attention, successful results and record-high levels of engagement. Due to adopting tested, tried and true personal trainer marketing techniques and honing their craft, the personal trainers who survive this fitness industry evolution would stand to make millions of dollars each. This is the world Sam Bakhtiar imagines.
Sam Bakhtiar is the founder of the Fitness Concepts franchise in Chino Hills, California, as well as a weight loss expert, personal trainer, champion bodybuilder, author and mentor. Just this month, he celebrated his 100th success story, which has become a valuable go-to resource for fitness industry professionals to bolster their personal trainer marketing skills and improve their businesses.
Craig Kastning had been working hard for 13 years, but it wasn't until the last two that he started coaching with Sam Bakhtiar and implementing the millionaire's strategies. After Craig attended one of Sam's dynamic personal trainer marketing masterminds, he wanted to learn more and receive one-on-one business coaching from the master himself. Now, thanks to Sam's coaching program, Craig is the proud owner of a fitness studio that is on pace to turnover $1 million + by mid-2012.
"I learned so much from Sam," Craig admits. "Probably the most important thing I took away from the program was that I had the realization the most valuable part of my business was my time. I learned how to prioritize, relinquish a little bit of control, automate my processes, and start systems that work to further my business along. This not only makes life easier, but it brings in much bigger profits and frees up your time so you can rekindle the passion you first felt for personal training."
Craig says another important thing he learned from Sam's personal trainer marketing is how to create multiple streams of income. "You should never stop adding to this list if you want to make millions of dollars. Unless you want to die working, you need to explore what is out there and start exploring passive income streams. You can franchise, open satellite boot camps, initiate coaching programs, and offer info products, for example."
Craig is now one of the hundreds of people who will see a seven-figure salary in 2012, thanks to Sam Bakhtiar's fitness marketing expertise. His knowledge can be implemented into any fitness business model – be it a martial arts studio, a boot camp, a yoga studio, a local gym, or a personal training franchise. Visit Sam's personal trainer marketing website, http://www.super-trainer.com, for more details.
About Sam Bakhtiar
Sam Bakhtiar is a Persian-born American with over twenty years of experience in fitness training and body building. After completing B.S in Premed and Nutrition, Sam also received a degree of doctorate of Chiropractics. Along with being one of the best fitness trainers, Sam is also a business and marketing expert. After establishing a successful fitness training business with substantial income, Sam is helping other professionals in the industry to achieve their business goals. For more information, please contact using the following information.
Contact Information:
Sam Bakhtiar
Fitness Concepts
909-393-9075
http://www.super-trainer.com
###