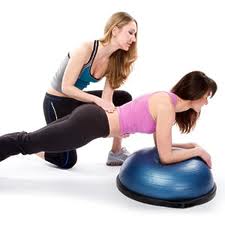 It's not the work that's hard, it's the discipline. ~ Anonymous
Chino Hills, CA (PRWEB) March 05, 2012
The old adage "Hindsight is 20/20" is so true of personal trainers who have managed to earn millions of dollars in their trade. Most people get started fresh out of college working for a big box gym or small local training studio where they trade all of their free time and talent slaving away to build someone else's fortune. Eventually, they reach the point where they want to start calling the shots, working for themselves, and gaining more freedom in life. That's where the personal trainer marketing programs of Dr. Saman Bakhtiar come in. This dynamic icon in the fitness community shares his 20+ years of personal experience and his rags-to-riches story with aspiring personal trainers who have hit a brick wall in their careers and are ready to take the next step.
So what qualifies Sam to teach personal trainer marketing? First of all, he is well-educated – possessing a Bachelor of Science in Premed and Nutrition, as well as a Doctorate of Chiropractics. Secondly, he is experienced in personal training. In addition to working for studios for more than 20 years, he still trains clients on a daily basis out of his Chino Hills studio. Also, he summarizes his success as follows: "In a short period of time, I've probably done the most hiring without owning a chain of gyms; sold the most training without working for a big health club; conducted tons of sessions hands on and have figured out what clients pay the money for, even while running my business out of working-class neighborhoods."
Sam realized that, not only did he have a lot to share, but he had personal trainer marketing advice that no one else was talking about at the time. "Everything you heard about was very stuffy and old-school," according to Sam. "No one was talking about what a tremendous business opportunity training is. No one was talking about the lazy way to riches as a trainer. No one was talking about how to do it at a young age, and still enjoy your life."
While running a top-producing New York City training studio, Sam worked with VIP clients like a Sports Illustrated swimsuit model, a Food Network host, a major magazine publisher and several hedge fund owners. "When you're charging the absolute highest rates in the industry to the most discerning of customers, you cannot skimp on quality," Sam says. Although what he also learned while training these people is that successful people naturally gravitate toward other successful people for business reasons and to create a social circle that propagates a greater synergistic success. That's what Sam hopes to deliver with his personal trainer marketing in a nutshell. By bringing together all the best minds in the industry, he wants to inspire, motivate and guide the most ambitious and talented personal trainers to reach the six-figure incomes they deserve.
Sam found himself overworked and dissatisfied with life. "What I realized is that no matter what your clients are paying, doing the training yourself is a low leverage activity. While you need to keep your pulse on the fitness side of the business, you've got to run the show and let others do the bulk of the training if you truly want to grow and make that six-figure salary." Sam admits that not everyone will use his personal trainer marketing to its fullest extent to become an industry heavyweight such as himself; yet, everyone will find something they can use – from the recent college graduate looking for networking opportunities to the individual who just wants to train a little bit better and free up a little bit of extra spare time.
Sam's tested, tried and true personal trainer marketing manual can be downloaded free for a limited time only at http://www.super-trainer.com.
About Sam Bakhtiar
Sam Bakhtiar is a Persian-born American with over twenty years of experience in fitness training and body building. After completing B.S in Premed and Nutrition, Sam also received a degree of doctorate of Chiropractics. Along with being one of the best fitness trainers, Sam is also a business and marketing expert. After establishing a successful fitness training business with substantial income, Sam is helping other professionals in the industry to achieve their business goals. For more information, please contact using the following information.
Contact Information:
Sam Bakhtiar
Fitness Concepts
909-393-9075
http://www.super-trainer.com