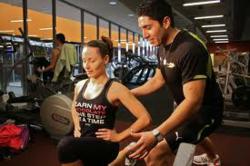 "People who are crazy enough to think they can change the world, are the ones who do."
Chino Hills, CA (PRWEB) March 26, 2012
Is old school personal trainer marketing under attack? It certainly seems so. Google is about to make their biggest change yet, which will affect just about every boot camp and fitness business marketer on the planet. Websites that used to receive decent ranking may now be penalized under the new guidelines. Search Engine Optimization techniques that have been allowed to propel mediocre websites to front page results for years will now become a detriment. Over the next few weeks, websites that do not feature high-quality content will suffer dramatically.
"I know, I know, you've been hearing this for months," says Sam Bakhtiar, a personal trainer marketing expert from Chino Hills, California. "If it seems like 'the Google engineer who cried wolf,' it's only because Matt Cutts has been warning us for months now that something radical and big is coming our way." He explains that there will be a whopping 40 new changes for personal trainer marketing professionals to consider – albeit rather furtive ones for now.
At a March 2012 meeting, Google Engineer Matt Cutts cryptically said that they are looking to "level the playing field" and "give sites featuring great content a better shot at ranking above sites that have content that is not as great but do a better job with SEO."
Personal Trainer Marketing Expert Sam Bakhtiar breaks it down into these digestible tips:
1. Reconsider how your site uses links. Sam says, "One of the changes we know is coming down the pipeline will pertain to links. The more you have, the higher you rank. However, if you are adding more backlinks than content to your site, you may be penalized. You may need to slow down your linking campaign a bit." He adds that personal trainer marketing experts should also diversify their links, using the brand name and anchor text for keywords. "Google bots will know you are obsessively optimizing your site if you only use high-target keywords as the anchor text for your links."
2. If you don't have a high-quality content provider yet, find one. Sam says, "I create a lot of my own content, but it's not my job 24/7, so I rely on a trusted team of content producers to help keep all my websites afloat. Budgeting for a copywriter simply has to be part of your personal trainer marketing strategy if you want to have any sort of online presence." Sam explains that a good personal trainer marketing site will amass about 100 pages of content in its first year and continue adding a page of unique content every day. Websites that already have over 100 pages of content can skate by on 2-3 pages added per week. "The new Google algorithm will involve intelligently scanning for content that answers direct questions people are typing into the search box. Content written by some cheap overseas firm that sends visitors packing after reading the first few lines will not fare well under the new system."
3. Be prepared for a wild ride. Sam explains, "Suffice to say, most people are going to be shocked and panicked when this all first goes into effect. They'll be ready to can their SEO guy and hire a new web designer, but it's important to begin making this subtle changes and have a team in place that can help you improve your personal trainer marketing as each new obstacle arises."
Anyone who wants sources for high-quality fitness industry writing is invited to contact Sam Bakhtiar directly. Personal trainers can also gain more insight on creating a more effective online presence on Sam's new fitness industry blog, http://www.super-trainer.com.
About Sam Bakhtiar:
Sam Bakhtiar is a Persian-born American with over twenty years of experience in fitness training and body building. After completing B.S in Premed and Nutrition, Sam also received a degree of doctorate of Chiropractics. Along with being one of the best fitness trainers, Sam is also a business and marketing expert. After establishing a successful fitness training business with substantial income, Sam is helping other professionals in the industry to achieve their business goals. For more information, please contact using the following information.
Contact Information:
Sam Bakhtiar
Fitness Concepts
909-393-9075
http://www.super-trainer.com