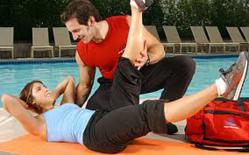 "The more I want to get something done, the less I call it work." - Richard Bach
Chino Hills, CA (PRWEB) March 29, 2012
Many Americans find it difficult to make time for physical activity, amid the hustle and bustle of a busy life. Yet, this is never a problem for personal trainers who have made their passion for fitness into a lifestyle. It's a sweet loop-hole that doesn't require any inventory or more than a handful of people to earn a decent living. However, without the right personal trainer marketing advice, it could become a stressful rat race just like any other profession.
"It is possible to run a lean operation on a shoestring budget, which is something I'm asked about fairly frequently," explains Sam Bakhtiar, a personal trainer marketing mentor who made his first million operating the Fitness Concepts franchise out of Chino Hills, California. He adds that he knows a New York trainer who is booked solid at $300 per hour without using more than a jump rope in his workouts.
Sam explains that minimalism is a popular trend in personal training these days, as smaller studios give up ambitions of competing with big box gyms full of expensive equipment. "My approach has always been to put the personal back into personal training," Sam says. "When we opened Fit Concepts, we fully understood that the people defecting from Bally's Fitness weren't going across the street and signing up at Anytime Fitness. These were people who dropped gyms altogether because they wanted results and they got a room full of expensive equipment instead."
Good personal trainer marketing should reflect this difference clearly, Sam states. Fitness boot camps are all the rage right now because people have heard that they are effective at motivating people to lose weight. The results speak for themselves. Other perks are that every workout is different – unlike the stationary bike or the treadmill – and that the workouts are easy to follow, using little to no equipment.
"People love this back-to-basics theme," Sam says. "Your personal trainer marketing should focus on all these high points. The group training element is also important. Not only is it more affordable than one-on-one training, but it also creates a great spirit of community and belonging that people really like."
Sam explains that his group holds many events outside of the boot camp workouts. They attend movies, go out to eat, take grocery shopping tours, and participate in fun cooking classes and nutrition seminars too. Creating this type of program will keep clients fitness-minded and also boost retention and referral rates, which are free forms of personal trainer marketing for people working with shoestring budgets.
Individuals who want to add a little bit of gym equipment to their workouts can do so for under $200, Sam adds. He recommends grabbing a Perform Better catalog and investing in a few dumbbells, elastic bands, kettlebells, resistance tubes, jump ropes, and a few Bosu balance balls. Many boot camps use props like used tire obstacle courses (which can be obtained cheaply on Freecycle or Craigslist). Trainers can also sometimes find a used Bowflex system for a great deal to add to one-on-one training routines.
For more information on personal trainer marketing and running a fledgling training business, visit http://www.super-trainer.com and download a free copy of "Six-Figures In 67 Days."
About Sam Bakhtiar
Sam Bakhtiar is a Persian-born American with over twenty years of experience in fitness training and body building. After completing B.S in Premed and Nutrition, Sam also received a degree of doctorate of Chiropractics. Along with being one of the best fitness trainers, Sam is also a business and marketing expert. After establishing a successful fitness training business with substantial income, Sam is helping other professionals in the industry to achieve their business goals. For more information, please contact using the following information.
Contact Information:
Sam Bakhtiar
Fitness Concepts
909-393-9075
http://www.super-trainer.com