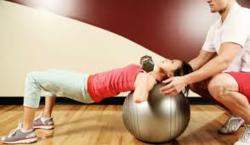 The trouble with not having a goal is that you can spend your life running up and down the field and never score. ~ Bill Copeland
Chino Hills, CA (PRWEB) April 02, 2012
Sam Bakhtiar is a self-made millionaire in the fitness ownership and personal trainer marketing industry who started off making just $30,000 a year, even though he had his doctorate in chiropractics. He quickly learned that trainers couldn't earn real money unless they went into business for themselves. After 20 years in the trenches as a champion bodybuilder, personal trainer and fitness business owner, he is now offering personal trainer marketing mentorships for "the best of the best."
"I decided to offer this mentorship opportunity because I, like many other top-tier trainers out there, have found that personal trainer marketing is very under-taught," Sam Bakhtiar explains. "Bright young people are getting every certification in the book and graduating with four-year fitness training degrees, but they still aren't prepared to wheel and deal in the real world."
He adds, "One thing you find in common for every single personal trainer marketing millionaire out there – and there are a lot of us – is that we all met that one person who changed our lives. When you're in the company of millionaires, you understand that it takes a certain attitude and a certain approach to how business is conducted that warrants a millionaire's success. In my mentorships, I teach all my systems, time-saving strategies, secrets for cutting expenses and give fitness professionals a step-by-step blueprint on how they can succeed at running their own businesses."
Sam Bakhtiar offers several different personal trainer marketing mentorship opportunities, including one-on-one coaching sessions and dynamic weekend workshops. Individuals who are interested in getting a taste of what Sam has to offer may do so by visiting http://www.super-trainer.com, perusing the free trainer tips blog and downloading a free copy of "Six-Figures In 67 Days."
Sam has received a lot of positive praise and accolades from the most well-known names in the personal trainer marketing business. Dr. John Spencer Ellis called Sam "smart, funny, and ballsy." He adds, "I am completely impressed by his breadth of knowledge" and says that Sam is "a machine."
Pat Rigsby calls Sam "genuine, driven and solid," and says that "what you see is what you get with him."
Rocco Castellano goes so far as to say, "He is more of a visionary than I think anybody in the fitness industry is."
Alicia Steger, Armando Cruz, Dax Moy and Carrie Kukuda all agree that sam is "generous, caring, helpful and giving." Alicia explains, "He cares about his clients, his family and helping other fitness professionals to get the best out of them." She adds, "I've never seen anybody operate the way he does at such a functional level and he gets so much stuff done. He's hyper-focused and some of the things he comes up with, I think, are completely genius."
Carrie Kukuda calls Sam a "guru" who "takes people from the darkness and brings them into the light," while Rocco Castellano considers Sam "the godfather" of the fitness world.
With several spots in his personal trainer marketing mentorship remaining for 2012, interested parties are invited to contact him directly so they do not miss out on this once-in-a-lifetime opportunity to transform their businesses into money-making machines.
About Sam Bakhtiar
Sam Bakhtiar is a Persian-born American with over twenty years of experience in fitness training and body building. After completing B.S in Premed and Nutrition, Sam also received a degree of doctorate of Chiropractics. Along with being one of the best fitness trainers, Sam is also a business and marketing expert. After establishing a successful fitness training business with substantial income, Sam is helping other professionals in the industry to achieve their business goals. For more information, please contact using the following information.
Contact Information:
Sam Bakhtiar
Fitness Concepts
909-393-9075
http://www.super-trainer.com