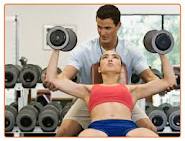 It is never too late to be what you might have been. ~ George Eliot
Chino Hills, CA (PRWEB) April 03, 2012
The fitness industry is in sorry shape. According to Money Sense magazine, 75 percent of gym members go a total of six times before cancelling their membership. Many trainers come out of the starting gate with good knowledge of anatomy, physiology and various workout styles. However, they may not understand the mechanics of personal trainer marketing or how to retain clients by giving the best possible service.
Sam Bakhtiar has been training and mentoring other fitness professionals in the art of personal trainer marketing for the last 20 years, and he has seen his fair share of lousy trainers who did not put customer service first. "One morning at 5am, I popped in at my gym for a quick cardio session and I observed a trainer leaving the client on the leg press machine -- with three plates on each side – to change the radio station. Let's just say… he is no longer with us."
There is no excuse for poor customer service these days, Sam adds. "One of my biggest pet peeves is incompetence. The simple fact of the matter is that there is no amount of personal trainer marketing that can help you if you're running an operation where the trainers are lazy, self-absorbed and just going through the motions."
Sam Bakhtiar says he sees people just "going through the motions" without any passion or drive all the time. Several years ago, a fitness trainer who had been working less than 90 days – and who was late three times – asked for a raise because she was "used to making $150 per session." She talked about how she had much more education than the other trainers and how she was far superior to them. So, Sam asked her to name the four rotator cuff muscles… which she couldn't do. He asked, "How many calories are needed to burn one pound of body fat?" Her best guess was 500. Needless to say, she didn't get her raise and was soon sent packing.
Another trainer at 24 Hour Fitness in Chino Hills asked a client, "What do you feel like working today – upper or lower?" When the client replied "upper," the trainer said, "That's what I was thinking too." Yet, it is clearly the personal trainer's job to provide guidance and intense workouts, rather than just watch while clients go through the motions, barely pushing themselves.
Sam's principles about creating a winning training program and improving one's core competency are ultimately what make his mentorship different than any other. "I believe it's VERY important to make it a habit from the beginning to give our absolute best in anything and everything we do, no matter how trivial. You can't be a half ass trainer working at a corporate gym and expect to be a super star when you get your own gig. Building good habits takes self-knowledge, discipline and a whole new mindset. That's where I start my personal trainer marketing. First and foremost, you need the best possible product to market."
For more information on Sam's offerings, visit http://www.super-trainer.com.
About Sam Bakhtiar
Sam Bakhtiar is a Persian-born American with over twenty years of experience in fitness training and body building. After completing B.S in Premed and Nutrition, Sam also received a degree of doctorate of Chiropractics. Along with being one of the best fitness trainers, Sam is also a business and marketing expert. After establishing a successful fitness training business with substantial income, Sam is helping other professionals in the industry to achieve their business goals. For more information, please contact using the following information.
Contact Information:
Sam Bakhtiar
Fitness Concepts
909-393-9075
http://www.super-trainer.com