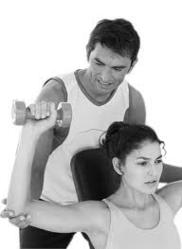 All our dreams can come true – if we have the courage to pursue them. ~ Walt Disney
Chino Hills, CA (PRWEB) April 04, 2012
Every fitness entrepreneur wants to make more money. By nature, the people who gravitate toward the fitness industry are motivated self-starters who are outgoing, passionate and driven to succeed. While most people start out training in a big box gym, few experienced trainers stay in that niche because there is low earning potential. Millionaire Trainer and Personal Trainer Marketing Expert Sam Bakhtiar shares four of his best profit-making ideas.
1. Start selling gift cards.
Sam says, "For mere pennies, you can sell holiday and birthday gift cards for trainer and boot camp services. Did you know that about 20 percent of these cards are never redeemed because they are lost, expired, unwanted or forgotten about? That's what I call free money. Also, 62 percent of the people who do end up using the card will also end up spending more money than the amount that's on the card. It's a winning situation for the personal training marketing pro either way."
2. Make a deadline.
Sam says, "If you want your personal trainer marketing to be successful, you need to emphasize the deadline of your current promotion. Consumers hate it when they miss an important sale, coupon or money-saving offer. Use this to your advantage by printing the deadline in bold and creating a sense of urgency on all your marketing materials."
3. Advertise differences.
Sam says, "Some small businesses get hung up on the fact that they're operating on smaller budgets that 'just can't compete' with the big box retailers. Yet, they're looking at the scenario all wrong. Clients will come because they aren't a big box retailer. They want the personalized service, the intimate sense of family, and the non-meat-show vibe. These differences need to be pointed out in personal trainer marketing materials."
4. Make an offer and offer a reason.
Sam says, "Far too often, I'll see personal trainer marketing ads that fail to make any kind of offer to prospects. They feel that saying they exist is enough to bring bodies through the door. However, they really need to offer a compelling reason for prospects to join today. Right now we're promoting programs to help people 'get beach bodies for summer' or 'spring into fitness with savings' or 'drop two dress sizes in two months this spring.' Essentially, there needs to be a financial incentive tied to a fitness goal that people have." He adds that it's also important to guarantee results, which is what sets apart the professionals from the chumps.
For more tips on personal trainer marketing, visit http://www.super-trainer.com.
About Sam Bakhtiar
Sam Bakhtiar is a Persian-born American with over twenty years of experience in fitness training and body building. After completing B.S in Premed and Nutrition, Sam also received a degree of doctorate of Chiropractics. Along with being one of the best fitness trainers, Sam is also a business and marketing expert. After establishing a successful fitness training business with substantial income, Sam is helping other professionals in the industry to achieve their business goals. For more information, please contact using the following information.
Contact Information:
Sam Bakhtiar
Fitness Concepts
909-393-9075
http://www.super-trainer.com