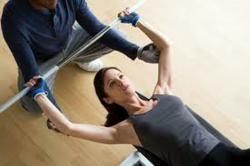 It's not whether you get knocked down, it's whether you get up. ~ Vince Lombardi
Chino Hills, CA (PRWEB) April 06, 2012
Many personal trainers get a sense that they are earning "chump change," compared to the industry's full potential. After all, millions of Americans would like to lose weight, maintain their weight, or improve their fitness levels. The market is vast and there are hardly enough quality, top-level trainers available to match the demand. Yet, due to the lack of awareness about the industry's best personal trainer marketing practices, far too many trainers settle for less.
Sam Bakhtiar is a Top-Level Trainer and Self-Made Millionaire who shares his 20+ years of expertise in personal trainer marketing with fitness pros who want to break the six or seven-figure barrier. "Becoming a top-level trainer isn't just about bringing in a bigger paycheck or paying off that Mercedes in the garage," Sam explains. "It's about achieving what you want out of life by truly enjoying your work, freeing up more time to spend with family, earning money for yourself rather than someone else, engaging in work that is mentally challenging, and about being the best at what you do."
"I'll never forget the first fitness business millionaire I met. It changed my life," Sam recalls. He, too, wanted that Mercedes Benz in the garage, that Armani suit, the vacation home in Las Vegas, and the ability to sock away 10 percent into a savings fund for his daughter's college tuition. "I wanted to be one of the cool kids at the grownup table," Sam jokes. "But seriously, that's why my personal trainer marketing events are so transformative. You get a taste of the good life and hang out in the company of giants, which becomes a motivating force for change in how you do business."
In fact, most Sam's clients have such a hunger when they return to work that they're calling him to say they've cut their expenses by thousands of dollars and they're on pace to earn six figures within two months and their first million within a year. To date, 100 millionaire personal trainers and fitness business professionals have come out of Sam Bakhtiar's personal trainer marketing mentorship programs.
"It's honestly just a simple plan," Sam explains. "You can easily earn six-figures just from training clients. You don't have to sell vitamins, create e-books, record videos, or open your own studio. Of course, if you're interested in other avenues for money-making, the sky is the limit." Sam goes on to say that what is most important is that individuals do a little soul-searching to know what activities will make them feel fulfilled at the end of the day.
"For me, ongoing education was important because I viewed personal trainer marketing as a means to an end. I wanted to automate as much as that stuff as possible, so I could free up more time to train clients and other trainers – which is where my passion lies. I love helping others achieve their goals and be the best they can be."
For more on Sam Bakhtiar's personal trainer marketing programs, visit http://www.super-trainer.com.
About Sam Bakhtiar
Sam Bakhtiar is a Persian-born American with over twenty years of experience in fitness training and body building. After completing B.S in Premed and Nutrition, Sam also received a degree of doctorate of Chiropractics. Along with being one of the best fitness trainers, Sam is also a business and marketing expert. After establishing a successful fitness training business with substantial income, Sam is helping other professionals in the industry to achieve their business goals. For more information, please contact using the following information.
Contact Information:
Sam Bakhtiar
Fitness Concepts
909-393-9075
http://www.super-trainer.com