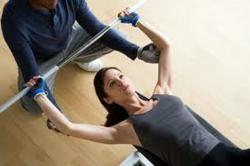 "Even if you're on the right track, you'll get run over if you just sit there." - Will Rogers
Chino Hills, CA (PRWEB) May 03, 2012
Learning doesn't have to be a painstaking process of trial and error. Nor does it have to entail cramming over 500-page text books that sound as though they were written by computers. Personal trainer marketing is something that is best assimilated in the presence of giants, says Sam Bakhtiar – CEO of the Fit Concepts franchise based out of Chino Hills, California.
Despite all his formal education and certification training, he found there were large gaps in personal trainer marketing education, which is so vital to fitness business entrepreneurs these days. "The fact of the matter is… You can know everything about health, fitness and nutrition there is to know and still fail. You can be the most qualified and charismatic trainer in your market and still fail. Without the proper systems, strategies and business prowess, you're going to be steamrolled by those who know what they're doing, plain and simple," Sam Bakhtiar says. "My goal is to make you one of the select few who not only survives your first five years in the business, but who breaks the six and seven-figure income barriers."
This past week, a group of personal trainers and millionaire business moguls met at a mansion in Las Vegas for several days of fun and personal trainer marketing training. According to attendee Dave Peterson, "We had the opportunity to have an unbelievable time, do a lot of cool stuff – like ride ATVs in the desert – and network with the sharpest minds in the industry." He adds that the event participants listened to powerful stories, salient advice and hilarious jokes.
"One thing speaker Kevin Nations said that really stuck with me – not just in business, but in life as well – was that: Sometimes staying small is the real path to success," Peterson said. He admits he was surprised that such a wildly successful entrepreneur wasn't pushing him to expand to new locations or services to rake in tons of revenue. "I realized that when expenses shoot up, so does your stress… and before you know it, your happiness goes down and your time disappears. So, instead, we learned how to build our businesses around our ideal lifestyles. That's just something you can't read about in a text book or learn about in a classroom."
Sam Bakhtiar's "7Figure" personal trainer marketing events are unlike any other in the industry. Instead of going to a giant lecture hall and obtaining knowledge through osmosis, individuals are invited in small numbers to out-of-town gatherings in mansions where they have one-on-one time with self-made millionaires in the fitness industry. They can ask questions, get advice, and learn the quickest path to make six and seven figure salaries. They will be introduced to systems and strategies that help with time management and stress reduction. They gain direction for starting a new enterprise, expanding, or refining one's fitness program.
To sign up for one of these once-in-a-lifetime personal trainer marketing retreats, visit http://www.Super-Trainer.com.
About Sam Bakhtiar
Sam Bakhtiar is a Persian-born American with over twenty years of experience in fitness training and body building. After completing B.S in Premed and Nutrition, Sam also received a degree of doctorate of Chiropractics. Along with being one of the best fitness trainers, Sam is also a business and marketing expert. After establishing a successful fitness training business with substantial income, Sam is helping other professionals in the industry to achieve their business goals. For more information, please contact using the following information.
Contact Information:
Sam Bakhtiar
Fitness Concepts
909-393-9075
http://www.super-trainer.com