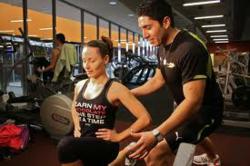 "When you come to the end of your rope, tie a knot and hang on." - Franklin D. Roosevelt
Chino Hills, CA (PRWEB) May 04, 2012
Personal trainers who own businesses quickly find that not everything can be learned in a classroom, but personal trainer marketing lessons learned in the trenches can take decades to pay off. Fitness Concepts CEO Sam Bakhtiar got his Bachelor of Science in Pre-Med and Nutrition, not to mention his doctorate in Chiropractics. Yet, all of this formal education was nothing compared to a few sit-downs with fitness industry multi-millionaires who showed him the fast track to six and seven figure income.
"I'm here to show people that you CAN make your first million simply by running a boot camp, training clients and doing what you love," Sam Bakhtiar explains. "Sure, there are guys out there who are making their money hustling supplements, shakes, e-books and marketing products. But for most of us, marketing is not our thing. We'd much rather be changing people's lives out in the field."
To share his 20+ years of personal trainer marketing experience, Sam has created dynamic "mastermind" retreats that bring together the most successful professionals in the fitness industry. "I was so tired of these boring seminar settings," Sam recalls. "I didn't want to feel like I was sitting through a boring college lecture… when more meaningful interactions occur just hanging out in the kitchen of a mansion in Las Vegas over a Skyy vodka drink."
He adds, "At my events, personal trainers with the passion and hunger for success can talk to multi-millionaires one-on-one to pick their brains and get advice about their business models. And when we're not talking serious… we're riding ATVs in the desert and having a blast! You won't find another personal trainer marketing event that is more useful and more fun."
Kirk Huggins Rogers was one of the attendees at Sam's latest "7Figure" personal trainer marketing retreat in Las Vegas. "These events are hidden gems where you'll make tons of connections with like-minded people who will help you personally and financially," he says. "I learned so much at this event. Sam Bakhtiar is the man! He knows how to work hard and play hard too. We talked shop by the pool, but then we got to see Floyd Money Mayweather spar four rounds with a top amateur fighter too."
Rogers summarized all the people he met and lessons he learned, saying: "Luke Hocevar taught me how to avoid the shiny objects and stick to tested, tried and true practices to grow my business. Damien Maher taught me how to get old clients reactivated. Steve Krebs taught me how to tap my passions. Dave Peterson showed me how to downsize my headache and reduce stress by focusing on living my ideal lifestyle. Ian Hart showed me how to develop template programs that deliver solutions to my clients' specific problems. Neil Venektramen taught me how to quantify and know how many clients I could handle before my level of service diminishes."
Visit http://www.Super-Trainer.com to sign up for one of these once-in-a-lifetime personal trainer marketing retreats.
About Sam Bakhtiar
Sam Bakhtiar is a Persian-born American with over twenty years of experience in fitness training and body building. After completing B.S in Premed and Nutrition, Sam also received a degree of doctorate of Chiropractics. Along with being one of the best fitness trainers, Sam is also a business and marketing expert. After establishing a successful fitness training business with substantial income, Sam is helping other professionals in the industry to achieve their business goals. For more information, please contact using the following information.
Contact Information:
Sam Bakhtiar
Fitness Concepts
909-393-9075
http://www.super-trainer.com