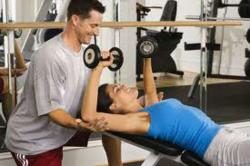 "What lies behind us and what lies before us are tiny matters compared to what lies within us." - Ralph Waldo Emerson
Chino Hills, CA (PRWEB) May 08, 2012
Personal trainer marketing webinars are a great way to learn the tools of the trade – without ever leaving the comfort of home! A webinar follows the same format as a seminar, except that participants need only sign up online, rather than buying a ticket, flying or driving to the location, and sitting in a crowded lecture hall. Webinars are excellent ways to get questions answered, as participants can merely type their inquiries to the program directors in real-time.
"Our personal trainer marketing webinars will address all the best practices in fitness marketing today," explains Sam Bakhtiar, who has developed the program as a complement to his http://www.Super-Trainer.com website. "All the topics you've been reading about on our site will be covered in greater depth and we'll have a panel of familiar experts attending our webinar to answer any questions you may have."
The first webinars offered with the titles "Getting Started" (opening a boot camp studio), "Set Up Your New Business," and "Branding Your Business." Other highly anticipated personal trainer marketing webinar topics have included: "Traffic and Conversion," "Facebook Marketing," and "How To Make Your Competitors Irrelevant." While webinars are hosted in real-time just as offline events, there are occasions where Sam will email a copy of his webinars to fans who may have missed it.
Here's what people are saying about Sam Bakhtiar's new personal trainer marketing webinars:

"Sam is the man… no B.S. and affiliate-pumping sell-out here!" (Randy Woody)
"This was really informative even for people who are not in the fitness industry." (Abhinav Gupta)
"You hit the nail on the head with this one. Thanks for all the amazing content!" (Billy Coburn)
Sam explains, "The best aspect of the webinars is that you don't need to buy new clothes. You don't need to pay for a ticket. You don't need to take the whole day off work. You can just tune in via your computer at the proper time and gather a ton of information in real-time. Webinars have come a long way. Now you can even interact with the hosts and other participants in real-time by typing into the message box."
He adds that personal trainer marketing can be an expensive venture, so any small tools -- that can help entrepreneurs who are just getting started – are extremely valuable. Often times, just one or two tips suggested in Sam Bakhtiar's webinars can help trainers cut expenses and drive revenues dramatically. Once trainers are earning more income, they can take the next step to sign up for Sam's business coaching calls or attend one of his millionaire mastermind events in Las Vegas.
"For people who like to have a manual in front of them that they can refer to, I highly recommend downloading 'Six-Figures In 67 Days,' which is available for free on Super-Trainer.com," Sam says. To watch one of Sam's past webinars, visit http://www.super-trainer.com/facebook-webinar1. Stay tuned for upcoming webinars, which will be announced on Sam's Super-Trainer Facebook page and the official Super-Trainer blog.
About Sam Bakhtiar
Sam Bakhtiar is a Persian-born American with over twenty years of experience in fitness training and body building. After completing B.S in Premed and Nutrition, Sam also received a degree of doctorate of Chiropractics. Along with being one of the best fitness trainers, Sam is also a business and marketing expert. After establishing a successful fitness training business with substantial income, Sam is helping other professionals in the industry to achieve their business goals. For more information, please contact using the following information.
Contact Information:
Sam Bakhtiar
Fitness Concepts
909-393-9075
http://www.super-trainer.com