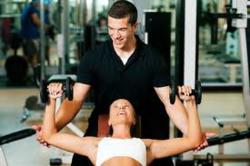 "What you do speaks so loudly that I cannot hear what you say." - Ralph Waldo Emerson
Chino Hills, CA (PRWEB) May 09, 2012
Fitness videos captivate audiences and make a great addition to blogs or social media pages. Few personal trainer marketing mediums impact clients like a well-made video. However, it can be difficult to know where to begin, as there are countless tools, websites and software programs all promising to do the same thing.
Industry Leader Sam Bakhtiar has tried many different video production tools over his 20 years in the fitness business, but he'd like to share ten of his favorites with trainers who are working their way to earning six-figure salaries this year.
1. Animoto – Puts photos to music with a professional-looking outcome; Great for testimonials!
2. Camtasia – Records screencasts, tutorials, and how-tos; Great for showing clients how to navigate your site!
3. Common Craft – Breaks down complex ideas into white-board animations; Great for promotions & "about us."
4. Go Animate – Lets you create "Family Guy" style animations; Great for funny blog posts or attention-grabbing!
5. Magisto – Automatically edits long clips of video to show the best parts; Great for highlighting class offerings!
6. Prezi – Zooms, pans & gives a dynamic feel to static videos; Great for seminars, lectures, or sit-and-speaks!
7. Reel SEO – Resource for how to use videos to market a business; Great for beginners who want to learn!
8. Stoome – Enables video uploading & basic editing; Great for collaborations / piecing together event footage!
9. Xtra Normal - Tells a story with "Sims" style characters; Great for discussing any blog-worthy topic!
10. YouTube Editor – Allows for uploading, transcripting and posting to YouTube directly; Great freebie!
Sam Bakhtiar adds, "Remember that a great fitness video is about more than just reading a script on camera. This is your opportunity to make your business more engaging, more human and more appealing. If you can't convey your awesome personality on camera, then hire someone who can or use animation to tell your story. No one wants to watch 20 minutes of the talking head."
In addition to giving out free tips, webinars and downloadable manuals on his personal trainer marketing blog, Sam also mentors fitness trainers by phone, conducts dynamic weekend workshop events, and delivers fully automated marketing assistance. As a self-made millionaire, Sam has boiled down his success to easy-to-replicate, step-by-step processes, systems and industry best practices. "There is no end to my learning," Sam explains. "Every day when I am training clients, I learn something new. Every time I network with another fit business pro, I learn something new. Yet, I'm more than happy to share every insight with other passionate people who are working to make this world a better place. Video is just one of the many methods we can use to reach a greater audience with our fitness message."
For more practical personal trainer marketing advice, visit http://www.Super-Trainer.com.
About Sam Bakhtiar
Sam Bakhtiar is a Persian-born American with over twenty years of experience in fitness training and body building. After completing B.S in Premed and Nutrition, Sam also received a degree of doctorate of Chiropractics. Along with being one of the best fitness trainers, Sam is also a business and marketing expert. After establishing a successful fitness training business with substantial income, Sam is helping other professionals in the industry to achieve their business goals. For more information, please contact using the following information.
Contact Information:
Sam Bakhtiar
Fitness Concepts
909-393-9075
http://www.super-trainer.com